Massive Sale!
Posted on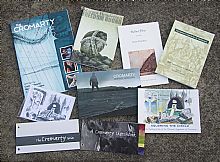 The Cromarty Arts Trust is having a big sale of all our beautiful publications and there are bargains to be had!
You can order the main titles online or visit our office at Ardyne House, 19 Bank Street to purchase in person (plus we have the smaller books, cards and postcards available here too).
So, if you're a Cromarty resident and not yet an owner of one of these books of local interest (poetry, history, children's book, photography) or if you're simply interested in Cromarty or any of the artists/writers behind these publications, why not treat yourself (or someone else)?!