Harp Village
The 2017 Harp Village will take place on the weekend 23rd to 24th September. Details of tutors to be announced in due course.
Cromarty - Harp Village promo-HD from Cromarty Arts Trust on Vimeo.
Harpist Corrina Hewat introduces the Cromarty Harp Village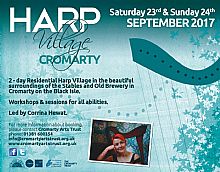 A 2-day residential harp village in the beautiful seaside town of Cromarty on the Black Isle.
The Harp Village will include a Saturday evening all-inclusive session in the Loft Studio of the Old Brewery - a great space for a session and wonderful acoustics.
There are workshops all day Saturday and Sunday for recent beginner/elementary and intermediate/advanced ability levels. Other abilities can be provided for.
See our harp tutorial videos recorded at the 2015 Harp Village /harp-tutorials.asp
Please contact us if you would like to know more about any aspect of the Harp Village.
Phone 01381 600354
The Cromarty Arts Trust
Ardyne, 19 Bank Street, Cromarty, The Black Isle IV11 8YE