Weddings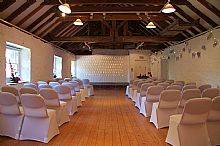 The Stables is a beautifully converted 18th Century stable block, used for a combination of artists' studios and as a venue for exhibitions, concerts, workshops and theatre.
The Stables provides a perfect wedding venue - a peaceful and secluded setting with sea views, full of originality, history and set in lovely grounds that you can make full use of as many of our previous wedding parties have done, putting up marquees, gazebos and even bouncy castles!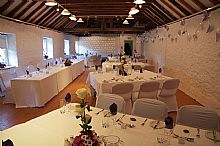 The long oaked-beamed Gallery is on the first floor is 17m x 6m and can hold 120 people. The West Wing next to the Gallery can also be used - perhaps for the signing of the register, displaying the wedding gifts or cake or as a bar or break-out area in the evening.
We have 12 long trestle tables which each comfortably seat six and we have 72 upright chairs available although of course, you may wish to hire your own furniture / equipment / accessories instead.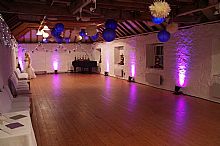 There is a tea point on the ground floor which you can use that has two fridges, an urn and microwave. We find that external caterers find this quite adequate.
We have parking on-site and an overflow option nearby if required.
Buildings in Scotland no longer require a Civil Wedding Licence and you can bring in your own Minister or Humanist Celebrant to perform the Ceremony.
We can also offer our other building, the Old Brewery, as a wedding venue for smaller parties if preferred or you may wish to book this out to serve your guests' accommodation needs. Some bridal couples hire both buildings and flit between the two - the choice is yours so please do have a look at both these wonderful properties in all their glory if you're coming for a look around.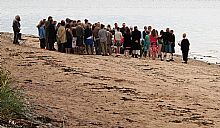 Getting married on the beach outside the Old Brewery.
Please contact us for costs and more details - we would love to have your wedding here with us in Cromarty.