Crime & Thrillers Weekend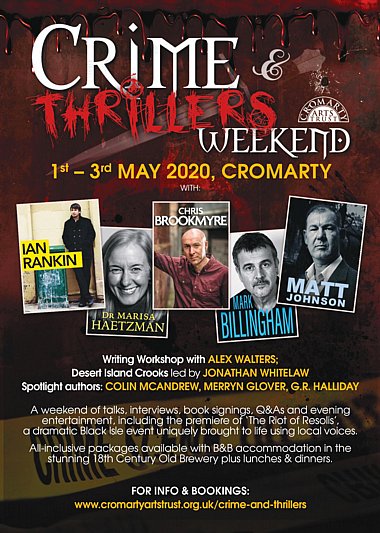 Covid-19
Due to the pandemic situation we all currently face, with great regret, we have had to cancel the event this year. However, we are delighted to say that the 2021 dates have now been set - Friday 30 April - Sunday 2 May - and 90% of our guest authors have confirmed they will be attending! So hopefully we can offer a carbon copy of this year's programme, give or take (we'll firm up final detail as soon as possible and update this site). We very much hope you will be able to join us.
1st - 3rd May 2020. NOW CANCELLED
Please click to download a 2020 booking form in Word or pdf.
The 2020 Crime & Thrillers Weekend is shaping up to be an absolute corker! Taking place across the Stables, the Old Brewery and the Victoria Hall, you can choose to dip in to as many or as few events over the weekend as you like. All details are below and on the booking form. Don't delay! Some of these events sell out so please get your bookings in soon to avoid disappointment.
The Short Story Competition won't be running this year but may be back in 2021 so if you're a budding writer, keep making notes and thinking up plot lines and we hope to hear from you next year.
For full programme, click on the individual event boxes below...