Cromarty Ukulele Weekend
Saturday 23rd & Sunday 24th March 2019

Download a booking form in Word or as a pdf.

Finlay Allison, presenter of the Ukulele School at Glasgow's Celtic Connections, returns to Cromarty with great, brand new and fresh workshops for 2019! All these workshops are 'stand alone.' You can opt to take as many or few as you wish, however, if you sign up for them all you will progress through a series of linked themes and develop a toolbox of techniques which you can apply to invigorate and develop your ukulele skills no matter where you are now...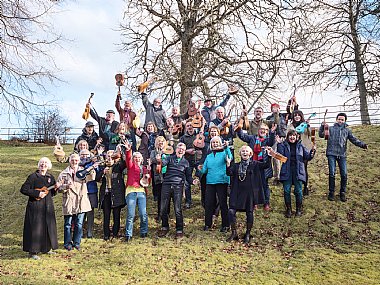 Saturday 23rd, 10.30 - 12.30 - £15
Workshop 1: It's Skiffle, Daddy-o
The Skiffle revolution set the scene for everything in the sixties, from The Beatles to Led Zeppelin. Get your uke out and find out what Lonnie Donegan meant to Jimmy Page and John Lennon!
Saturday 23rd, 14.30 - 16.30 - £15
Workshop 2: Pete Seeger For Ukulele
Famous for the banjo and twelve-string guitar, did you know Pete also played uke? Prior to their evening show in the Stables, Finlay and Jimmy Ross will teach several of teh songs in the show from a ukulele perspective, with strumming patterns and chord voicings to bring out that special voice only teh uke can provide. Attendees at this workshop will be invited to perform a couple of the songs at the evening show...!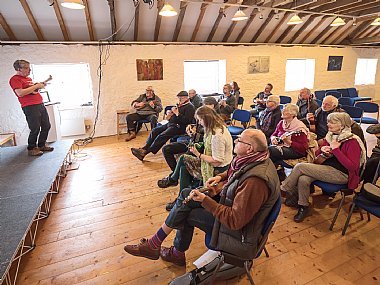 Sunday 24th, 10.30 - 12.30 - £15
Workshop 3: Move On Up
Finlay shows you how to improve your technique and expand on your existing abilities. Building on skills you already have, you can open up the fingerboard, creating new sounds from familiar chord shapes and adding style to your playing. Time to move on up!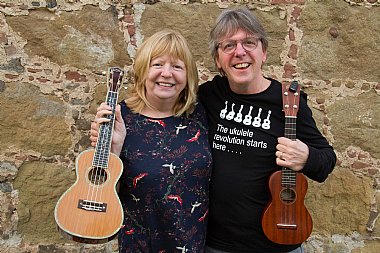 Sunday 24th, 14.30 - 16.30 - £15
Workshop 4: Western Swing
Cowboy favourites but with a ukulele twist! From Hollywood cowboys to jazzy stetson-wearing sophisticates, Finlay will cover a range of western styles to strum beneath the stars.

After the workshops you can download the worksheets and keep working on the material he has prepared to keep you improving for months to come!

COMPLETE BEGINNERS - Sat 23rd - 11.00 - 12.30 - £10
We also offer a Complete Beginners one-off session on the Saturday morning with Finlay's other half, Marie Therese, for anyone keen to give this verstatile instrument a first go! And if you don't have a uke, don't panic as we can provide one!
View archived events: