The Old Brewery
The Old Brewery in Cromarty was established in 1776 and operated as a brewery until the end of the 19th century. For almost 80 years the building lay empty and unused until in 1988, it was renovated by the Cromarty Arts Trust and is now operating as an arts centre - the ideal venue for training, meetings, functions, group get-togethers, celebrations and events - in one of the most beautiful areas of Scotland.

Why hire the Old Brewery...?
4 group rooms, including a community room and lounge area

Accommodation for up to 22 people in four single, one double, five twin & two triple rooms

Excellent catering packages, tailored to your requirements (including gluten-free, dairy-free, wholefood, vegetarian and vegan choices).

Standard catering options comprise: full cooked Scottish breakfast with veggie options, delicious home-made soup & sandwich lunch, two course evening meal using locally sourced products and refreshments as required throughout the day. There is also the option of self-catering in our well-equipped kitchen.

The Loft Studio seats 20 people in horseshoe style seating and 40 in theatre style

Two rooms equipped with training and conference facilities such as free WiFi, whiteboards, flip charts, projectors and screens

DVD player with DVD library for projecting onto screen - training or evening leisure time activity

Verstatile cafe area used for both meals and as a venue for concerts and functions (dimensions: 11.3m long x 3.75m wide)

Outside patio and lawned areas (wit Weber BBQ) for external tuition or relaxation when the weather is fine

Free parking

Bright, warm, welcoming, clean, well-equipped rooms

A stunning, peaceful and inspiring location

Only 40 minutes in a car or bus from Inverness, the capital of the Highlands
See rates list below...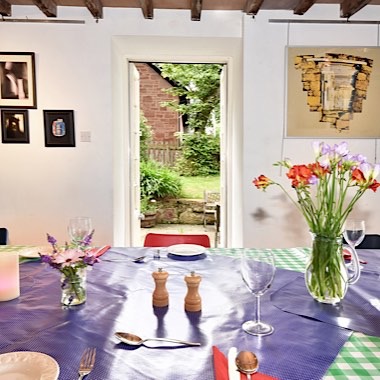 The Old Brewery is situated right at the edge of the sea shore on the fringes of the picturesque town of Cromarty. Within easy walking distance you will find award-winning museums, restaurant, cafes and shops; two pubs serving locally-brewed ale; galleries & gifts; harbour & park; sandy beaches; resident population of bottlenose dolphins (with wildlife tours to see them up close!); woodland and coastal walks; interesting 18thC architecture and buildings of historical significance.
Cromarty - and the wider Black Isle peninsula - has it all and we guarantee you'll want to come back for more!
You may also wish to use our other converted building, just up the hill from the Old Brewery? Click here for more info and rates for hiring The Stables.
Prices (previously held for three years) from 1st May 2022 (all prices include VAT):
PER PERSON

PER NIGHT

+ FULL COOKED BREAKFAST

£45

CHILD UNDER 12

PER NIGHT

+ FULL COOKED BREAKFAST

£25

PER PERSON

PER NIGHT

+ SELF-SERVICE CONTINENTAL

£39

PER PERSON

PER NIGHT

BED ONLY

£35

CHILD UNDER 12

PER NIGHT

CONTINENTAL OR BED ONLY

£15

EXCLUSIVE USE OF WHOLE BUILDING – access to all bedrooms, all studios, café & kitchen on self-catering basis, garden

PER DAY

£630

FULL BOARD, AS PART OF A GROUP – B&B, all meals, teas/coffees (x 2)

PER DAY

£87

DAY DELEGATE – lunch, teas/coffees (x 2)

PER DAY

£21

DAY DELEGATE PLUS DINNER

PER DAY

£42

STUDIOS/CAFÉ/KITCHEN – NON EDUCATIONAL/COMMUNITY/LOCAL

PER HOUR, PER ROOM

£27

STUDIOS/CAFÉ/KITCHEN – EDUCATIONAL/CHARITABLE/LOCAL

PER HOUR, PER ROOM

£13.50

FULL COOKED BREAKFAST

£9.75

LUNCH

£15

DINNER (2 COURSES)

£21

TEAS/COFFEES

£3
Check-in is usually at 4.00pm and check-out, 11.00am though there is some flexibility with both these times if required (please enquire).
If you are thinking of hiring the Old Brewery for a private party, please email us - unfortunately we are unable to allow hen or stag parties and some other celebrations to be held in this listed building and can give an indication of the suitability of other private occasions on request.
Please note: We are not a B&B, but first and foremost an arts and education centre and therefore our priority is to take bookings that fulfil our remit, e.g. from training groups, for workshops, attendees of arts/literature/music groups & events, industry team-building, etc. We are unable to open the building just for ad hoc individual bookings but MAY be able to accommodate individuals or small B&B groups if there is availability and the building is already open and running. Please do get in touch to enquire.
We regret that the Old Brewery is not suitable for wheelchair access. There is one disabled toilet on the ground floor but all bedrooms and the Loft Studio are accessed by flights of stairs with no alternative options unfortunately.
The Old Brewery is at Burnside Place, Cromarty IV11 8XQ.
Arriving in Cromarty, follow the High Street down to the coast and turn right along Shore Street (sea on your left) for 400 yards.
To download our handy, 4-page pdf document detailing ALL our venues / spaces for hire, click here.
To chat further, arrange a tour of the Old Brewery or request availability, please phone 01381 600354 or email us info@cromartyartstrust.org.uk.
But don't just take our word for it! Here are two comments from users of the Old Brewery:
"We've been delivering our ScotGrad residential training courses at Cromarty Arts Trust – The Old Brewery since July 2015. It's a great venue and the staff are very helpful, approachable and accommodating. They have always gone the extra mile to meet our needs. The trainers we use to deliver the courses undertake training at other high profile venues but enjoy coming to The Old Brewery primarily owing to the customer service. The catering is fantastic, proper home-made cooking with locally sourced ingredients! The venue is close to everything you need when staying in Cromarty… and on a regular bus route."

Karla Sam-Sin
ScotGrad Programme Manager – Highlands and Islands
Highlands and Islands Enterprise
"It has been fantastic working with the Cromarty Arts Trust. In the preceding months to the workshop, they were extremely quick to reply to any of my administrative requests, and always very accommodating. On arrival, both the tutors and students were knocked out by the welcome received, and we were all thoroughly looked after during our stay. Everything had been thought about with great care. The food was phenomenal and served with great joy. The venues for the tutors' concert and the workshop were fantastic and brilliantly run, and the residential accommodation was extremely comfortable. The weather was stunning (though I am not sure exactly how much the CAT had to do with that, but I am sure if they could have made it so, they would) and we have booked to return with great excitement next year. THANK YOU CAT"!

Sophie Bancroft
Vocal Jazz Workshops, April 2016
Location Map
The Old Brewery
Burnside Place IV11 8XQ