The Old Brewery
The Old Brewery is an ideal venue for training, meetings, functions, group get-togethers and events. It was built in 1776 and operated as a brewery until the end of the 19th century. Renovated in 1988 after lying empty and unused for nearly 80 years, it is now a bright and busy arts centre with accommodation.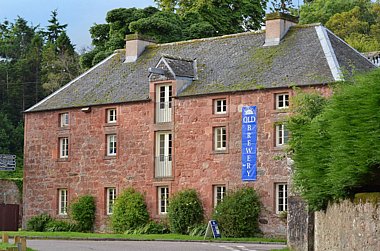 Four rooms for meetings and breakout groups.

Accommodation for up to 22 people in 12 bedrooms. Four single, one double, five twin & two triple rooms.

Excellent catering all cooked on the premises by our chefs. We can tailor all meals to your requirements; gluten-free, dairy-free, vegetarian and vegan.

There is also the option of self-catering in our well-equipped kitchen.

The Loft Studio seats 20 people in horseshoe style seating and 40 in theatre style

Two rooms equipped with training and conference facilities. WiFi, whiteboards, flip charts, DVD player, projectors and screens

Verstatile room used for both meals, meetings, workshops and as a venue for concerts and functions (dimensions: 11.3m long x 3.75m wide).

Outside patio and lawned areas with BBQ and outdoor furniture.

Ample free parking.

Bright, warm, welcoming, well-equipped rooms in a stunning, peaceful and inspiring location.

Only 40 minutes bycar or bus from Inverness, the capital of the Highlands.
The Old Brewery is situated right at the edge of the sea shore on the fringes of the picturesque town of Cromarty. Within easy walking distance you will find award-winning museums, galleries, restaurant, cafes and shops. There are two pubs serving locally-brewed ale, a busy harbour, play park, sandy beaches and a resident population of bottlenose dolphins! There are peaceful woodland and coastal walks, interesting 18thC architecture and buildings of historical significance.
Cromarty, and the Black Isle peninsula has it all and we guarantee you'll want to come back for more!
Rates and Catering. We have a number of pricing options covering hire of full building, hire of individual rooms and with or without catering. Please click here to download the prices for 2024. You can also download some sample menus here. Check-in is usually at 4pm and check-out at 11am though we will be as flexible as possible.
To hire the Old Brewery for a private party, please call 01381 600354 or email us at info@cromartyartstrust.org.uk.
While we are not a standard B&B, but first and foremost an arts and education centre and therefore our priority is to take bookings that fulfil our charitable remit. These include training groups, workshops, attendees of arts, literature, music groups and events, team-building, etc. We are unable to open the building just for ad hoc individual bookings but may be able to accommodate individuals or small B&B groups if there is availability. Unfortunately we don't allow hen or stag parties in this listed building.
We deeply regret that the bedrooms at Old Brewery are not accessible for wheelchair users. The cafe area, two studio rooms and an accessible toilet are on the ground floor but unfortunately all bedrooms and the Loft Studio are accessed by flights of stairs with no alternative options. We do have a fully accessible bedroom in Ardyne House, a short distance from the Old Brewery.
Find out more about our other buildings in Cromarty, The Stables and Ardyne House.
To check availability, find out more or arrange a tour of any of our buildings please phone 01381 600354 or email us info@cromartyartstrust.org.uk.
Location Map
The Old Brewery
Burnside Place IV11 8XQ