Ardyne House
In order to further its charitable objectives, the Trust offers affordable accommodation to students, researchers, writers and artists visiting Cromarty for stays of between one month and one year.
The accommodation is in a traditional townhouse at no 19 Bank Street, Cromarty. It offers a peaceful place in which to write and think with all the town's facilities on the doorstep – it is in the heart of Cromarty near the famous Cromarty bakery, the general stores, post office and Sutor Creek Restaurant and 100 yards from the Royal Hotel and eighteenth century harbour where shell fish are regularly landed in the early hours of the morning.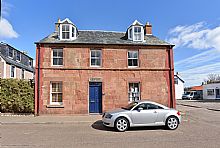 There are 5 rooms
with shared use of a kitchen/dining room.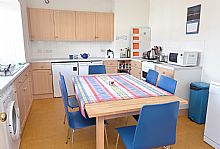 Most have lovely views over the Cromarty roofscape and the top floor sets look over the Cromarty Firth.
Each room is well equipped, warm and comfortably furnished.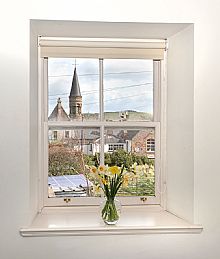 Particularly during the summer months, the accommodation is much used by post-graduate research students from the Aberdeen University Marine Station based at the Lighthouse in Cromarty.

However the Trust is keen to welcome all visitors to Cromarty and other researchers, writers or artists who wish to pursue their work and enjoy the many sources of inspiration that Cromarty has to offer – its historic architecture, stunning natural environment or vibrant local community.

ROOMS NOW AVAILABLE AT ARDYNE
All rooms have bedrooms, study rooms, en-suite bathrooms and free WiFi

Please call 01381 600354 or email info@cromartyartstrust.org.uk

Ardyne charges as of 1st August 2019:
PER NIGHT PER PERSON
£42
2 PEOPLE SHARING A ROOM
£75
PER WEEK UP TO 4 WEEKS
£198
PER WEEK FOR 4 - 12 WEEKS
£150
PER WEEK OVER 12 WEEKS
£120
The prices shown above include: electricity, rates, heating, bedding, towels, WiFi, use of washing machine, cleaning materials and cleaning of rooms fortnightly and include the current rate of 20% VAT.
Location Map
Ardyne House
19 Bank Street IV11 8YE
Tel: 01381 600354