Ardyne House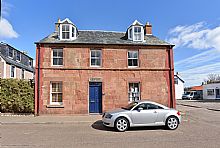 In order to further its charitable objectives, the Trust offers affordable accommodation to students, researchers, writers, artists, musicians and others visiting Cromarty for stays of anything between one week and one year.
The accommodation is in a traditional townhouse at no 19 Bank Street, Cromarty. It offers a peaceful place in which to write and think with all the town's wonderful facilities on the doorstep - shops, cafes, pubs & restaurant; harbour, beaches, cinema, park, tennis courts and walks.
There are 5 rooms with shared use of a fully-equipped kitchen/dining room. Most have lovely views over the Cromarty roofscapes and the two top floor rooms look out over the Cromarty Firth.
Each room is well equipped, warm and comfortably furnished with study areas, free wifi and en-suite bathrooms. There is free parking right outside and the bus stop for service bus to Inverness and elsewhere on the Black Isle is just two minutes round the corner.
Accessibility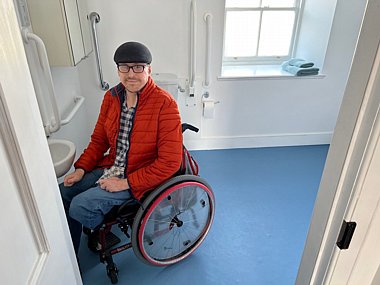 As of January 2022: we are delighted to announce that we now have a fully fitted wet room attached to our ground floor Room 1 that can accommodate those in a wheelchair or with other accessibility issues. Our front door has been replaced and there is a now a small ramp to ensure ease of use for residents in wheelchairs.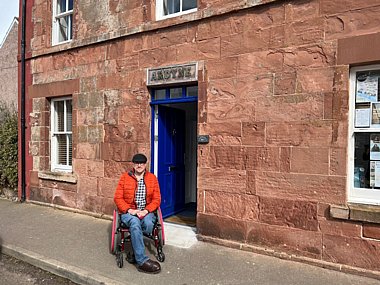 Please note however, that the communal kitchen is not fully accessible and we have been advised that the spaces throughout are suitable for manual wheelchairs only. We can accommodate carers in other rooms within the house but generally the room is not suitable for those with high care requirements.
Please contact us to find out more or check availability. [And a big thank you to Lawrence for modelling for these pics!]
"I was so impressed with the obvious dedication staff had made to creating a welcoming, friendly and spotlessly clean space for us."
Landscape Painting participant, Aug 2021
If you're interested in finding out more or booking a room, please email us or call 01381 600354.
Ardyne charges (previously held for three years) as of 1st May 2022:
PER NIGHT PER PERSON
£45
2 PEOPLE SHARING A ROOM
£80
PER WEEK UP TO 4 WEEKS
£198
PER WEEK FOR 4 - 12 WEEKS
£165
PER WEEK OVER 12 WEEKS
£135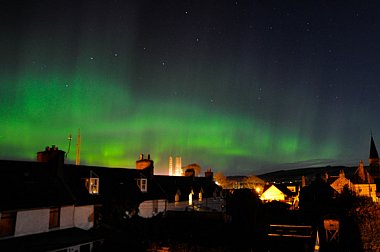 The prices shown above include: electricity, rates, heating, bedding, towels, WiFi, use of washing machine, cleaning materials and cleaning of rooms fortnightly and include the current rate of 20% VAT.
Picture taken of the Aurora from her room in Ardyne by visiting student, Saliza Bono.
Location Map
Ardyne House
19 Bank Street IV11 8YE
Tel: 01381 600354