Cromarty Ukulele Weekend
Saturday 17th & Sunday 18th March 2018

Download your Booking Form in Word format here
Download your Booking Form as a PDF here

Finlay Allison, presenter of the Ukulele School at Glasgow's Celtic Connections, returns to Cromarty with great new workshops for 2018! All these workshops are 'stand alone.' You can opt to take as many or few as you wish, however, if you sign up for them all you will progress through a series of linked themes and develop a toolbox of techniques which you can apply to invigorate and develop your ukulele skills no matter where you are now...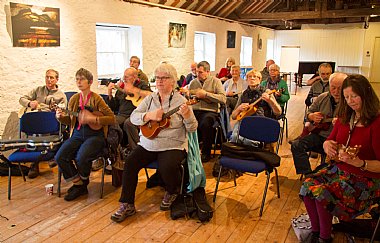 Saturday 17th, 10.30 - 12.30 - £15
Workshop 1: Celtic Ukulele
There are many Scottish songs, some well-known standards, which are great to play on uke. Finlay will start with some old favourites and show you how to construct a 'medley' of Scottish songs.
Saturday 17th, 14.30 - 16.30 - £15
Workshop 2: Introduction To Fingerpicking
Want to accompany songs using 'fingerpicking'? Finlay will help you to begin and then develop a range of picking styles adaptable to folk, blues and jazz songs and help you construct and develop the coordination needed become a fingerpicking expert!
Sunday 18th, 10.30 - 12.30 - £15
Workshop 3: Rock That Uke!
Power up your uke and take it up a notch. Finlay will show you how to improve your strumming, add shuffles and licks to old favourites, improve your dynamics and generally turn your 'jumping flea' into a mean machine. Turn your uke up to 11!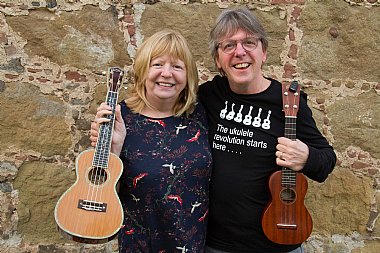 Sunday 18th, 14.30 - 16.30 - £15
Workshop 4: Tips and Tricks for Song Arranging on Ukulele
Learn how to slide and shuffle, damp and strum, fill and riff. This toolkit of techniques will mlake your songs take on new life. This fun and very useful workshop will help you understand elements of song arrangement and how to use your uke to best effect.

After the workshops you can download the worksheets and keep working on the material he has prepared to keep you improving for months to come!
The workshops will cover songs and arrangements in the key of C and then move on to other keys. If you can play C, Am, F and G7, it's a short step to Dm and D7 and A7 and suddenly it's all up for grabs!

COMPLETE BEGINNERS - Sat 17th - 11.00 - 12.30 - £10
We also offer a Complete Beginners one-off session on the Saturday morning for anyone keen to give this verstatile instrument a first go! And if you don't have a uke, don't panic as we can provide one!

We offer Residential Packages (Sat night only for £130; Fri & Sat nights for £165) that cover all four workshops, plus the following:
Delicious Lunches each day in the Old Brewery Cafe
B&B Accommodation available in the Old Brewery
Saturday evening dinner followed by session with local musicians
Or, you can book any individual element(s) of the weekend - please see the Booking Form above for all prices.
We look forward to seeing you in March!
View archived events: