Cromarty Arts Trust Caroline Hewat Prize
The Cromarty Arts Trust, has created a new award in memory of their former Arts Development Manager, Caroline Hewat, who sadly passed away in December 2015. Caroline, herself a well-respected artist, worked tirelessly to promote arts and culture in Cromarty, the Black Isle and far beyond and the Trust Chair, John Nightingale, and staff were eager to create a lasting legacy in her name.
The 'Cromarty Arts Trust Caroline Hewat Prize' was on offer to "a student who has shown commitment, passion and a natural interest and flair for art and design throughout their senior studies at Fortrose Academy. They should be competent and independent individuals, willing and enthusiastic to be heading out in to the next stage of their studies/training/lives." The prize itself is a two week paid internship with the Cromarty Arts Trust, managing a project from inception to fruition, allowing the recipient a practical, 'behind the scenes' first-hand experience of organization, admin, marketing in an arts environment.
2020 Award
Chloe Fea from Rosemarkie
2019 Award
This year's award went to Abby Ross from Avoch.
2018 Award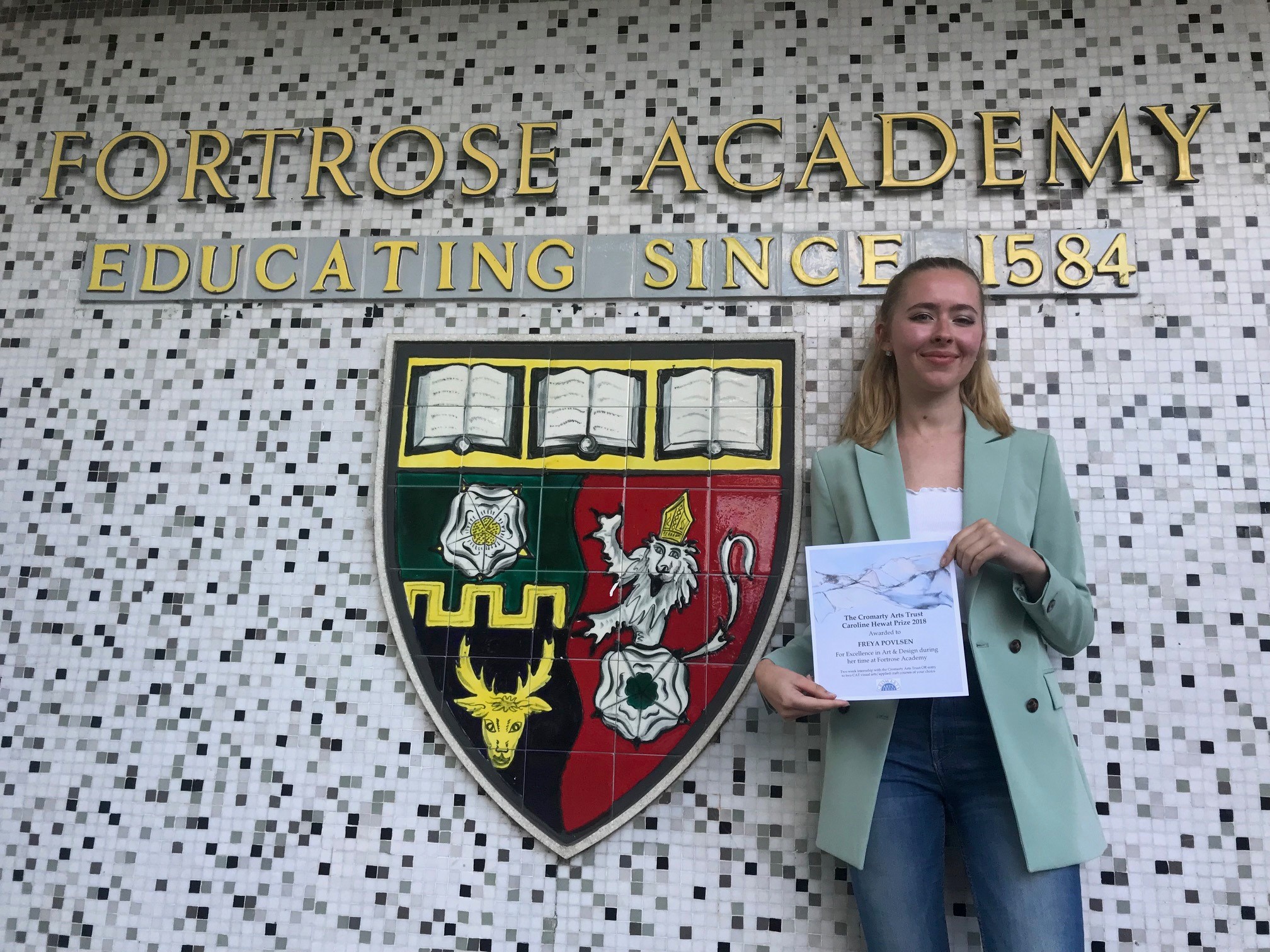 The second ever Cromarty Arts Trust Caroline Hewat Prize was awarded to 17-year old Freya Povlsen following unanimous recognition from her teachers for her talent, passion and dedication to art throughout her time at Fortrose Academy. Freya is taking a year out to work and take stock before hopefully pursuing a course in art & design from 2019 onwards. She is delighted to have won the prize and very much looking forward to her internship with the Trust, starting early August. Congratulations Freya!
2017 Award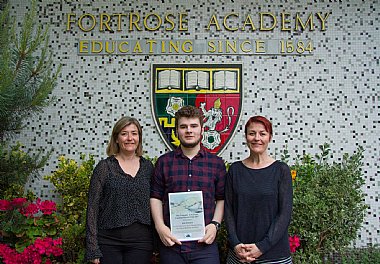 At Fortrose Academy's Senior Awards Ceremony on 15th June, the inaugural award went to Joe Inman, a unanimous choice by staff. The Head of Department, Nino Meehan, explained that Joe was a worthy winner because of "his consistent and determined application to a career in architecture over a number of years which he will be continuing at Robert Gordon University in Aberdeen. In his Advanced Higher Art Portfolio, he made impressive use of a wide range of traditional sketching and modeling techniques and married these with modern 3D modeling, 3D printing and computer rendering software to produce a proposal for a museum and visitor centre at Fortrose Cathedral. This involved countless hours of research from historic documents and site visits, development of concepts using various modeling techniques and the production of a very professional end product. He also spent a significant amount of time engaging in separate projects for units that he was sitting at the University of the Highlands & Islands for which he received high praise and commendation."
Joe's award was presented to him by Caroline's two daughters, Corrina & Jade Hewat, themselves both former pupils of Fortrose Academy. They said, "we are extremely honored that the Cromarty Arts Trust have initiated an award in memory of our Mum, Caroline, and that we are able to be here for this first presentation to such a worthy student. Our Mum was a tireless supporter of all the arts – with her work at the Cromarty Arts Trust, her own professional artistic endeavors in oils, acrylics, mixed media, wood and clay plus her support in musical terms with her two Highland choirs, Feis Rois, the Ukulele School, the continued promotion of the Scottish tradition in the Highlands and also through the 23 years of coordinating Celtic Connections community workshops. To list all that Mum did would take too long and there are not enough words to try and convey how supportive she was to us right through our lives in our own endeavors. She would be extremely humbled to know her memory lives on in ways she could not have imagined."