Residencies in Cromarty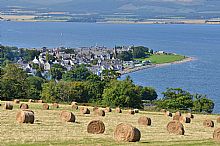 We welcome writers and artists of ALL media to come and stay with us in Cromarty. This little corner of the world is very special - it boasts stunning coastal scenery; beautiful buildings and architecture; is steeped in history; has award-winning eateries, shops and attractions; woodland walks and sandy beaches; a resident population of bottle-nosed dolphins plus seals, bird colonies, red kites and other wildlife; a small but incredibly friendly community with a vibrant, arty feel and constant programme of interesting events, gigs, talks, shows and markets happening year-round.
In a nutshell, it's a peaceful, tranquil and inspiring spot at any time of year - the perfect place for creative types to visit, whether it's to write the next chapter of a book, find motivation for your next exhibition, continue working on your works in a fresh, new environment or just because a change is as good as a holiday, or so the saying goes!
What CAT can offer:
A comfortable, en-suite room in Ardyne House, in the centre of the town.
A studio space at The Stables, amongst our resident Studio Artists
A venue and help with publicity for an exhibition, should you wish to have one
We regret we are unable to offer you a fee or assistance with expenses. Whilst we are happy to offer the in-kind support of free accommodation and studio space, we aren't currently in a position to help out financially so artists should be able to fund their living, transport and material costs whilst here.
If an artist is able to carry out a workshop whilst here, we strongly encourage this as it's a great way to engage with the local community and pass on your skills and expertise to others.
We can only offer residencies in our quieter months of October - March. We accept residencies at our discretion and the final decision should be respected by applying artists.
If you are interested in coming to Cromarty on a Residency basis, please email or tel 01381 600354.