When: Saturday, July 1st 2017, Start Time: 20:00
Where: The Old Brewery Burnside Place, Cromarty IV11 8XQ
Part of:
Tickets: £10 / £8 concessions / £5 under 16s
Available on the door or info@cromartyartstrust.org.uk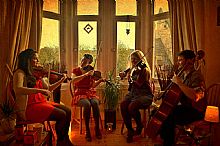 PLEASE NOTE: There is a misprint in our Events Programme! This concert is NOT at 4.00pm, but 8.00pm with doors open from 7.30pm. Apologies for any inconvenience this may cause.
The Routes Quartet are an exquisite blend of the folk and classical traditions, featuring evocative arrangements of folk tunes and stunning original compositions. The Routes Quartet are made up of the classic string quartet instrumentation of Cello (Rufus Huggan), Viola (Emma Tomlinson), and two Fiddles (Gràinne Brady and Tricia Mullan). The sound is a charming concoction of classical, Scottish, Irish and English traditional music as well as their own deftness for the art of composing. The string quartet instrumentation is well established in other genres but is entirely new to the folk scene.
Routes set out to arrange and explore the vast textures, tones and intimate musical qualities that are characteristic of the string quartet, but with a folky, rootsy accent. Their debut album 'Windrose' is produced by none other than the highly acclaimed Patsy Reid.