When: Sunday, June 11th 2017, Start Time: 16:00
Where: The Stables Causeway, Cromarty IV11 8XS
Part of:
Tickets: £10 / £8 concessions / £5 under 16s
Available on the door or info@cromartyartstrust.org.uk
Sophie Williams, Briona Mannion - Violins
Rachel Spence - Viola
Hugh Mackay - Cello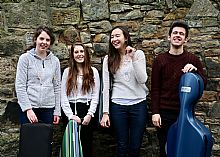 The St. Mary's Quartet formed in Summer 2016 and comprises four students from the St. Mary's Music School in Edinburgh. Here, they have become experienced solo and chamber musicianshaving received years of tuition, masterclasses and chamber music coaching with numerousrenowned musicians. This year they have been coached by Kathryn Jourdan and William Conway working on two challenging and major works - Kodaly's String Quartet No. 1 and Schubert's 'Death and the Maiden' Quartet. Over a year of playing together, they have performed in venues and societies such as the Balmoral Hotel in Edinburgh, the Royal Overseas League and in Manchester's International Chamber Music Festival.
Sophie Williams currently studies violin with Andrea Gajic. During her time at St. Mary's, shehas received several awards for 'General Excellence in String Playing'. Sophie has performedwith the National Youth Orchestras of Scotland, whose 'Senior' orchestra she led throughout2016. as well as performing in the BBC Proms with their 'Symphony' orchestra. This Septembershe will continue her studies as a scholar of the Royal College of Music, London with Gaby Lester.

Briona Mannion is currently studying violin with Andrea Gajic and has won many prizes,awards and scholarships performing as a soloist in Europe and the UK in a variety of concertsand competitions. This year she has lead the National Youth Orchestra of Scotland's Seniororchestra and has performed with the National Youth Orchestra of GB. She has enjoyednumerous masterclasses with Nicola Benedetti, Felix Andrievsky and Leland Chen.

Rachel Spence began playing the viola at the age of eight with Isobel Grant on the Black Isle,later having lessons with Kathryn Jourdan in Edinburgh. She gained a place at St Mary's MusicSchool in 2014, where she studies with Jane Atkins. She enjoys varied opportunities as a solo,chamber and orchestral musician and is currently a member of the National Youth Orchestra ofScotland. Rachel plays on a viola made by Alan Beavitt, kindly loaned to her by him.

Hugh Mackay currently studies cello under Ruth Beauchamp. As a pupil at St. Mary's, he hasreceived awards such as the Calvert String Prize for Service and the Lord Clyde Memorial Prize,the outcome of which was a public performance in 2016 of Elgar's Cello Concerto with theschool orchestra. Hugh is currently the co-principal cellist of the National Youth Orchestra ofGreat Britain. Next year he will continue his studies under Hannah Roberts at the Royal Academy of Music in London.