When: Monday, June 11th 2018, Start Time: 10:00, End Time: 16:30
Where: The Old Brewery Burnside Place, Cromarty IV11 8XQ
Part of: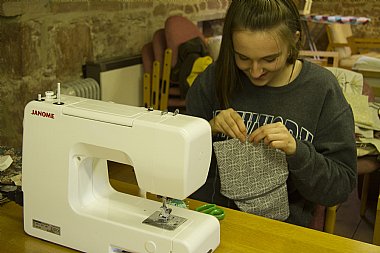 This masterclass is suitable for those who have completed the Beginners Sewing weekend or who are comfortable with a sewing machine and looking to improve their sewing skills. It is similar to the two day workshop in October but, with only one day, will obviously cover less and focus primarily on using a pattern.
The Basic Sewing Kit
It would be helpful to have a basic sewing kit for this course, but not essential as there will tools available for use.
Fabric scissors
Seam ripper
Dressmaking pins
Hand sewing needles
Threads
Dressmaking tape measure
Sewing gauge
Bobbins, zipper foot and buttonhole foot suitable for your machine
Temporary markers - this could be tailor's chalk, fade or wash-away pen
Sewing Machine
You will be required to bring your own sewing machine (which can be left securely overnight within the sewing room) this allows you to learn and become familiar with your own machine. There will also be a limited amount of extra machines available if you do not have your own machine please enquire upon booking.
Fabric
Fabric will be supplied however you may decide that you would like to pick your own fabric for your pyjama trousers and/or your bag. If this is the case please advise when booking and we will send you details of requirements.
£50 - includes tea & coffee and most materials. Please bring a packed lunch each day.
We require 25% deposit to reserve your place - email or tel 01381 600354.
Please note, this course is also running on 13 & 14 October.