When: Tuesday, June 14th 2016, Start Time: 19:30
Touring London theatre company ISOSCELES presents
'PROBABLY THE BEST COMEDY SONGS IN THE WORLD EVER, MAYBE' 7.30pm £10 and £8 (£4 children) AT THE STABLES, CROMARTY
With Pat Abernethy and Dave Marsden.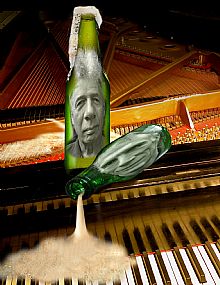 This show does exactly what it says on the tin, possibly – a host of comedy songs covering a number of years by a host of great names… and a few surprises.
Songs from the like of :
Stan Freeberg, Tom Lehrer, The Pythons, Pete and Dud, Lonnie Donegan, Bernard Cribbins, Richard Digance, Tom Paxton, The Goons, Kenneth Williams, Benny Hill, Noel Coward, George Formby, Flanders and Swan, Chris de Burgh, Alan Sherman, Robb Wilton, Noel Murphy etc etc.
Pat and Dave will attempt all of this with just the aid of a piano and whatever talent they can muster.They will also perform their own unique versions of Elvis Presley and Righteous Brothers songs as you have never heard them before. You have been warned ! If you are looking for a serious dramatic evening then this is not for you. If you want to see grown men having fun at their own expense, and maybe yours, then step right up.

' Masterful…. An evening of consistent laughter.' TIME OUT
'An exceptional gift for comedy that had us rolling in the aisles.' THE SCOTSMAN
' This show is one of the 5 great things to do today.' BELFAST TELEGRAPH.