When: Saturday, September 14th 2019, Start Time: 20:00, End Time: 21:00
Where: The Stables Causeway, Cromarty IV11 8XS
Part of: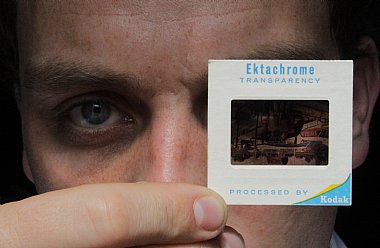 Get caught in the web of another mind. Forget who you are. Become someone else.
In a world created by your imagination it be difficult to work out what is fiction and what is reality. My Name is Irrelevant by Edinburgh theatre group, Tortoise In A Nutshell Ltd, is a subtly and moving piece of new writing, blending spoken word with a live, original soundtrack.
A poignant and intimate production, My Name is Irrelevant layers humour and pathos in the exploration of an intensely personal story of loneliness and isolation. Follow Matthew as he discusses all the people he has ever met with the assistance of a 35mm slide projector and a VHS player.
**** The List
**** Fringe Guru
**** All Edinburgh Theatre
**** Reviews Hub
Further info...
Award-winning writer Matthew Leonard undertakes his first Scotland-wide tour of his critically acclaimed new production My Name is Irrelevant. Following on from a successful premier at the Edinburgh Fringe Festival 2017, where it received great critical and audience acclaim, the production will be undertaking its first tour across Scotland in Autumn 2019.
A long-term collaborator and associate artist with Tortoise in a Nutshell (Feral, Fisk, The Lost Things), My Name is Irrelevant is a unique theatre production combining spoken word, live music and low-fi 1970s technology to tell a moving and deeply personal story of isolation and idiosyncrasy. A self-contained, lo-fi design creates a close and personal setting, with a rich and evocative sound score provided by Composer/Musician Jim Harbourne.
Isolation
Matthew Leonard's writing tackles the issue of social isolation and the challenge this can cause to mental wellbeing. Combining humour and pathos the script submerges the audience into the world of a man separated from mainstream society. By 2030 the number of older men living alone is expected to rise by two-thirds, according to a study by independent Age and the International Longevity Centre-UK (ILC-UK). A societal issue, increasing in its severity, a key focus of the production is to act as a start point for discussion, particular in areas of lower mental health care provision.
Spoken Word
Spoken word as an art form has undergone a surge in popularity in the past few years with many more live, film and TV productions interacting with the form. For some audiences however it remains a difficult form to access. Through an intimate and personal presentation, driven by a live contemporary soundtrack My Name is Irrelevant works to breakdown this stigma, making the form accessible to those who have not seen or engaged in the style of theatre before.
One hour duration; no interval. Doors open from 19.30. Suitable for 12+ years.
£10 (£5 under 16s)
To purchase your tickets in advance, email us or tel 01381 600354.