When: Saturday, July 16th 2016, Start Time: 20:00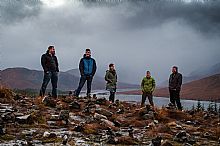 FRAS are Kirsten MacLeod (accordion); Thomas Kinsella (banjo); Colin Masterton (flute); Murdo cameron (guitar) and Angus Binnie (pipes and whistles)
Scottish traditional band FRAS at the Old Brewery on Saturday 16th July at 8pm. Tickets £10 (£8) from the Cromarty Arts Trust. Reserve by phone or email or from the Ardyne office on Bank Street, Cromarty.
Wild West Highland days and storming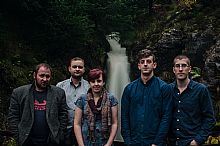 tune-fuelled nights have formed Fras.
Their Album Dìle is a bracing shower of melodies, a
downpour of thundering rhythm with the
occasional promise of sunshine.
Supporting FRAS on 16 July is traditional duo Ashcroft.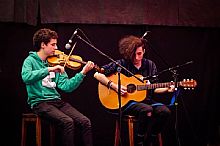 Ashcroft is made up of brothers Euan (17) and Lewis (15) McLaughlin from Edinburgh. Both have learnt the fiddle under teachers such as Eilidh Steel, Adam Sutherland and Sarah Hoy and are also becoming well regarded as multi instrumentalists and composers. They've previously done gigs in various line ups supporting Michael McGoldrick and John McCusker, Frigg, Fara and Troy MacGillivray. They performed a recital at the Scots Fiddle Festival 2015. Both Euan and Lewis have performed as part of The Mick West band and as four piece with their parents Gillian MacDonald and Frank McLaughlin. They have various upcoming gigs across Scotland including supporting folk legend Martin Carthy and Headlining Dunfermline Folk Club.