When: Friday, May 16th 2014 - Tuesday, May 20th 2014
In this 5 day hands on workshop, you will learn how to create your own wine cup or mini vase under the expert tuition of silversmith Ndidi Ekubia. You will learn hand raising techniques, use specialist tools and create your very own piece.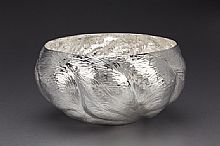 Ndidi is a contemporary silversmith who has been creating stunning silverware from London since 1998. Through her use of traditional hand-raising techniques and inspirations from her African heritage, Ndidi's statement pieces take on fluid and sensual forms with both a sculptural and functional identity.
Workshop places cost £450 and numbers are strictly limited.
For more information please contact
Cromarty Arts Trust on 01381 600354
or