When: Saturday, November 16th 2019, Start Time: 10:00, End Time: 16:00
Where: The Stables Causeway, Cromarty IV11 8XS
Part of: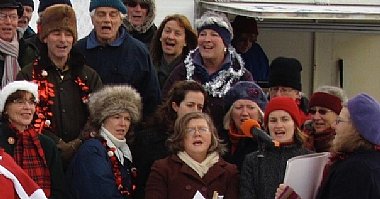 Singing together is great for individual health and wellbeing as well as building community.
A fun day to open up your voice and sing some inspirational acappella harmony songs, under the tuition of Kate O'Connell. The chosen songs are relatively simple so that we can learn them and then relax and enjoy the experience of singing together, listening to each other's harmonies.
Suits all levels of experience. Learning is by ear. The day includes vocal exercises to increase power, range, quality, and confidence of voice as well as playing with harmony and learning some beautiful songs.
£35 Tea/coffee provided. Please bring a packed lunch.
We require 25% deposit to reserve your place - email or tel 01381 600354 for a Booking Form or more info.

What former participants have said:
"Excellent experience, would love to do another!"
"Great workshop, inspiring tutor, exhilarating learning experience."
"Kate exuded energy and enthusiasm and warmth. Very encouraging and positive and the group responded, making lovely sounds!"
"Very friendly - a great way to spend the day."