When: Saturday, December 18th 2021, Start Time: 15:00
Where: The Stables Causeway, Cromarty IV11 8XS
Part of: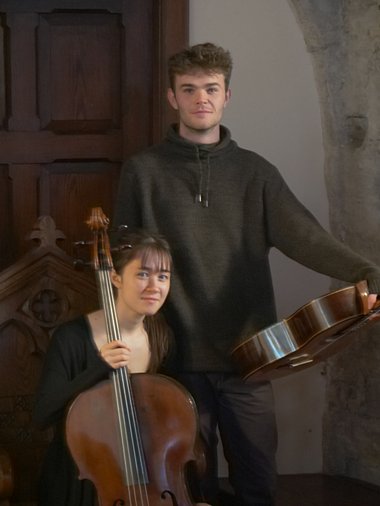 This concert is now fully booked and there will be no door sales.
Hattie McGregor (from Rosemarkie) and Finlay Hay will be playing a series of songs newly arranged for cello and guitar.
Spanning from the Renaissance to the 20th century, the programme will include lute songs, a reimagining of English folk tunes, and ends with a Spanish flair of music by Cassado, the virtuoso Spanish composer who championed music for cello and guitar. The cello perhaps being the closest to the tenor voice, Finlay's arrangements (among those by others) are tailored beautifully to this more unusual combination of instruments. The duo, which was originally formed at the Yehudi Menuhin School, also look forward to playing the first piece they ever performed together: Schubert's Litanei.
Programme
John Dowland - Three songs of Tears
Frank Bridge - Four Pieces
Schubert - Du bist die Ruh, and Litanei
Vaughan Williams - 6 studies in English Folksong
Cassado - Lamento de Boabdil, and Serenade

Tickets: £10 and school kids go FREE!
Please email: info@cromartyartstrust.org.uk or tel 01381 600354. We can now also sell tickets on the door, provided there is still availability.
Tea/coffee will be on sale at the interval or feel free to bring your own refreshments.
No Covid bubbles or allocated seating any more - sit wherever you like! We do still however ask that you wear a face mask during the entire duration of your time in the venue, even when seated, with the exception of when drinking/eating.

Musician Biogs
Hattie started playing the cello aged 6 in Rosemarkie, before studying with Bartholomew LaFollette and Matthijs Broersma at the Yehudi Menuhin School. While there, she enjoyed performing in venues such as Champs Hill Records, and in masterclasses with musicians such as Colin Carr, Gary Hoffman, Alexander Chaushian, Tasmin Little, and the Endellion String Quartet. Now a first year student at the Royal Academy of Music in London, she looks forward to returning to the Stables. Hattie has been generously supported by the Agar Trust.
Finlay has grown up with the classical guitar, first plucking around ten years ago at the Portobello Music School. Since then, he has studied with Richard Wright at the Yehudi Menuhin School and at the Royal Conservatoire of Scotland where he is now in his second year. Last year, Finlay was awarded the North East Scotland Classical Guitar Society Award and 3rd place at the Altamira International. More recent projects include playing in quartet with Paul Galbraith and performing for the COP26.
The duo was originally formed at the Yehudi Menuhin School, and have enjoyed performing in events such as the Taproot festival.
This is event is now full.