When: Saturday, March 19th 2022 - Sunday, March 20th 2022
Part of: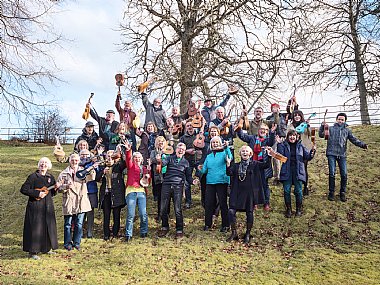 Finlay Allison, fresh from Glasgow's Celtic Connections, returns to Cromarty with exciting new workshops for 2022!
All these workshops are 'stand alone'. Develop a toolbox of techniques that you can apply to invigorate and develop your ukulele skills no matter where you are in your playing. Dive right in and get inspired!
All our bookings, as last year, are through Eventbrite. Just click on the links below to take you to the correct event page where you follow instructions to purchase your tickets. Hopefully all will be clear and the weekend will run smoothly - but please bear with us, this is only our second online event! If you have queries, please do get in touch via email.
All workshops cost £10 + booking fee. Bookings open 10am on Mon 7th February 2022!
Saturday 19th March
10.30 - 12.00 First Steps In Ukulele Book this workshop HERE
Ideally, you will have a uke and be able to tune it before we start. Finlay will take you through all the basics, get you off the launch pad and into really playing some fun songs.
13.30 - 15.00 Beyond The First 3 Chords Book this workshop HERE
You can manage C, F and G7 and you can strum all the way through a couple of songs. Why bother doing more, isn't that enough to say you can play? In this fun workshop Finlay will show you where more fun lies. Learn easy stuff to do with your uke and get even more enjoyment out of it!
Sunday 20th March
10.30 - 12.00 After the Beatles Book this workshop HERE
John Lennon, Paul McCartney and George Harrison continued to make world class music even after The Beatles split. Finlay's ukulele arrangements of some of their great solo work will show you how their songs are perfection on the uke.
13.30 - 15.00 Top of The Pops 1966: Ukulele Shapes Book this workshop HERE
If you are familiar with a 'G shape' (triangle) or an 'Em shape' (diagonal) on the ukulele, Finlay will show you how to move all over the fingerboard to play some great ukulele songs from the classic period of 60's pop music.