When: Saturday, November 20th 2021, Start Time: 10:00, End Time: 16:30
Where: The Stables Causeway, Cromarty IV11 8XS
Part of: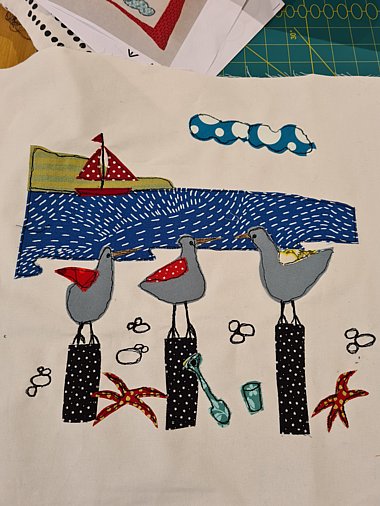 This course is now FULLY BOOKED! If you wish to add your name to a waiting list, please email us.
Learn the wonderful art of 'drawing' with your sewing machine.
This is a fun way to become more creative with your machine; a great means of bringing some uniqueness to your makes. This day-long course is ideal for anyone who has completed the Beginners Sewing weekend course or has some experience of sewing.
This is a fun and creative class where you can be a bit imaginative and play around with ideas. There will also be some templates available for those who may not feel as confident making something up from scratch. You will get an opportunity to learn a variety of techniques under the expert and patient eye of tutor, Rebecca Barbour.
The Basic Sewing Kit
It would be helpful to have a basic sewing kit for this course, but not essential as there will be tools available for use.
Fabric scissors
Paper scissors
Seam ripper
Dressmaking pins
Hand sewing needles
Threads
Bobbins suitable for your machine
Darning foot and Applique foot - these are fairly common and usually come with most machines. Tutor will have a limited number available.
Temporary markers - this could be tailor's chalk, fade or wash-away pen
Sewing Machine
You will be required to bring your own sewing machine (which can be left securely overnight within the sewing room IF you are also taking part in the Christmas Decorations workshop the following day) allowing you to learn and become familiar with your own machine. However, there will also be a limited amount of extra machines available if you do not have your own - please enquire upon booking.
All fabric and all haberdashery is supplied and included in the price, though if you have a favourite fabric you wish to use, you are welcome to bring it along.
£60 Includes tea / coffee and all materials. Please bring a packed lunch each day.
To book your place, request a booking form by email info@cromartyartstrust.org.uk or tel 01381 600354.
COVID-19
All our courses are run in strict adherence to the Covid safety protocols and regulations at the time. We exercise social distancing throughout the course as well as regular sanitising, wiping down of any shared equipment between uses, strict hygiene rules throughout each venue, wearing of masks in all communal areas, temperature checking on arrival and constant monitoring of the comfort and safety of participants. If you feel at all unwell prior to the course, please alert us and DO NOT attend.

As everyone is well aware by now, the Covid situation and subsequent government restrictions and advice can change on a daily basis. We will inform you of any cancellations or changes to any element of courses as soon as we become aware of these. If you have any queries, please do not hesitate to get in touch.
This is event is now full.