When: Saturday, March 23rd 2019, Start Time: 20:00
Where: The Stables Causeway, Cromarty IV11 8XS
Part of: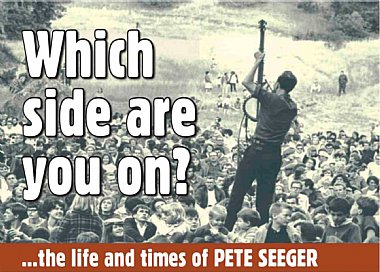 2019 marks the 100th birthday of the legendary singer songwriter andcampaigner Pete Seeger. As part of their national tour celebrating hiscentenary Finlay Allison and Jimmy Ross are offering a special ukulele-friendly version of their show The Life and Times of Pete Seeger. The show tells the story of Pete's eventful and creative musical life. It is studded with many of his best known songs and songs by his friends, the music giants Woody Guthrie and Lead Belly. Finlay and Jimmy have presented their shows involving songs, script and slides across the UK and in the US.
Finlay and Jimmy have extracted some of songs from this Pete Seeger celebration for a special ukulele treatment. Their two-part presentation of workshop and concert allows ukulele players of all abilities to improve their skills and to learn some great songs. See Ukulele Weekend to find out more and complete the Booking Form if you fancy giving this Sat 23rd March afternoon workshop a try.
In Part 2, the concert, Finlay and Jimmy will present their Seeger show with songs, script and slides of archive footage of Pete Seeger's life and times. At various points in the show the songs learned in the earlier workshop will be performed with all players participating. This afternoon/evening presentation is for players and/or audience alike. Come to one or both, sit back and sing or get your uke out and join us in celebrating the life of one of the most important folk performers and activists of the 20th century!

This uplifting, entertaining and inspiring show portrays the turmoil and triumphs of the period Pete lived through and the soundtrack he provided to those who experienced it alongside him.
Comment on the show from Peggy Seeger; "This is such a wonderful way to keep Pete coming forward with us. Thank you, Finlay and Jimmy." Peggy
Tickets: £13 / £11 concession (£5 under 16s)
To reserve or purchase by card: email or tel 01381 600354