When: Saturday, March 26th 2022 - Sunday, March 27th 2022, Start Time: 10:00, End Time: 16:30
Where: The Stables Causeway, Cromarty IV11 8XS
Part of: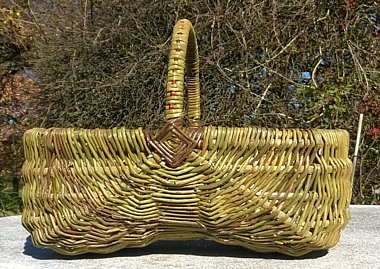 THIS WORKSHOP IS NOW FULLY BOOKED.
If you would like to go on the waiting list, please email us.
This two-day course with experienced tutor Tim Palmer, will introduce participants to the various types of frame baskets – baskets made using a hoop, ribs and weavers – and give them the skills to make one. This will involve making the hoop, choice and preparation of the ribs, how to attach the ribs to the hoop, and how to weave the basket. At the end of the course, the participants will have made a simple frame basket.
Suitable for complete beginners as well as those with some previous experience. All materials are provided though it would be useful if participants can bring their own sharp secateurs and sharp knife (such as a Opinel or Mora knife; a craft/stanley knife is not suitable as the blades are too flimsy).
"Tim is a wonderful teacher. He offers a wealth of knowledge and experience with patience and enthusiasm. I am so proud of my first basket and it is always in use. Starting to learn the craft of basket making in Tim's workshop was fun and a beautiful journey. Can't wait to make the next one! Whether you decide to make your first ever basket or build on existing skills, I trust you will have a rich and enjoyable time." Gilda Westermann, previous workshop participant

£145 Includes tea / coffee and all materials. Please bring a packed lunch each day.
To book your place, request a booking form by email info@cromartyartstrust.org.uk or tel 01381 600354.
This is event is now full.