When: Saturday, May 29th 2021 - Sunday, May 30th 2021, Start Time: 10:00, End Time: 16:30
Where: The Stables Causeway, Cromarty IV11 8XS
Part of: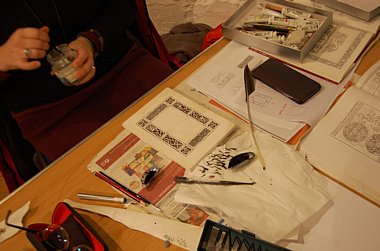 Using the same techniques and materials as the scribes that made the Book of Kells this workshop will involve working on real parchment and mixing traditional pigments to create a work of art inspired by the original insular manuscripts with the help of scribe, illuminator and parchment maker, Thomas Keyes.
Following on from years of research into insular parchment and pigment making techniques and working with leading experts at Trinity college Dublin and the University of Cork this workshop will run in conjunction with Thomas's Exhibition at Groam House Museum which shows the creation of a replica 8th century gospel book and the supporting scribes toolkit that would have been at Rosemarkie in its monastic phase.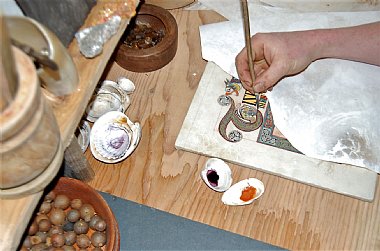 This course will involve getting as close to the world of the insular scribe as it's possible to get and in so doing gain a deeper appreciation of Celtic insular art.
Suitable for anyone with an interest in Celtic art or broadening their range of creative skills. No experience necessary.
£150 Includes all materials, tea / coffee and delicious, home-made lunch each day at the Old Brewery.
To book your place, request a booking form by email info@cromartyartstrust.org.uk or tel 01381 600354.
COVID-19
All our courses are run in strict adherence to the Covid safety protocols and regulations at the time. We exercise social distancing throughout the course as well as regular sanitising, wiping down of any shared equipment between uses, strict hygiene rules throughout each venue, wearing of masks in all communal areas, temperature checking on arrival and constant monitoring of the comfort and safety of participants. If you feel at all unwell prior to the course, please alert us and DO NOT attend.

As everyone is well aware by now, the Covid situation and subsequent government restrictions and advice can change on a daily basis. We will inform you of any cancellations or changes to any element of courses as soon as we become aware of these. If you have any queries, please do not hesitate to get in touch.