When: Saturday, May 30th 2015 - Sunday, May 31st 2015, Start Time: 10:00, End Time: 16:30
Jonathan Shearer will be running a plein air workshop at the Old Brewery in Cromarty focusing on the landscape and developing abstract through sketches and paintings of the surrounding area. Seascapes, landscapes with oil, acrylic, watercolour or pastels. Whatever is your favourite medium for you to express yourself.
Suitable for inexperienced as well as those who have more knowledge of the subject, Jonathan is a skilled and popular tutor in the Highlands and will help you to develop your talents. The workshop will look at a variety of approaches of interpreting the landscape en plein air(in situ) Students can
bring whichever materials they would like to use such as,acrylic,oil,watercolour paint to pastels, charcoal.
Please bring a sketchbook, paper and other supports to work on such as boards or stretched canvas.
During the workshop we will focus on collecting information, understanding how to look at the subject matter and create our own unique visual expression through a process of mark-making.
During the weekend Jonathan will demonstrate how to use oil,acrylic,watercolour and soft pastels en plein air.
The workshop will take place at the Old Brewery in Cromarty and hope for good weather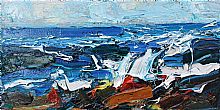 Cost of the 2 day workshop is £100 which includes lunch, teas and coffees on both days.
Numbers are limited so please book early to avoid disappointment.