When: Saturday, November 28th 2020, Start Time: 10:00, End Time: 16:30
Where: The Stables Causeway, Cromarty IV11 8XS
Part of: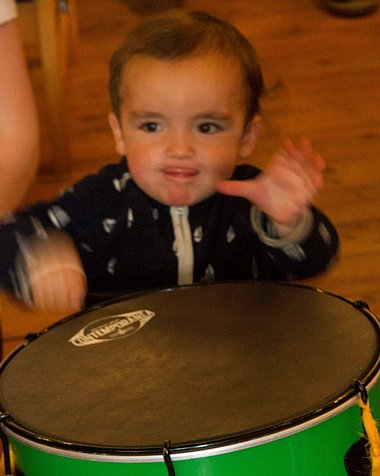 COVID-19: POSTPONED, NEW DATE 28 NOVEMBER 2020
Experienced workshop leader and percussionist, Carol Scorer, returns to Cromarty for a day of drumming fun for all ages.
Toddler Drumjam: 10.00 - 11.00
For toddlers aged 2-5 years (approx) and their parent/carer. £5 per child
Come and play with rhythm! Your tots will use movement, song, rhyme and a selection of drums and percussion in this fun and noisy rhythm play session, especially designed for toddlers.
Exploring Rhythm: Feel The Rhythm, Find Your Rhythm:
11.30 - 12.30 - for Primary School aged kids (5-11 years approx). Can be unaccompanied. £5 per child
14.30 - 16.30 - for age 12+ (young folk and adults) £10 each. Coffee break half way through.
Have fun and explore rhythms in this workshop session. You will look at playing various hand drums and percussion such as djembes, congas and doun douns (bass drums), learn some techniques on the instruments, engage in some playful improvisation and listening games before learning to play a traditional rhythm from Africa in a group. Emphasis is on feeling the rhythm in your body and expressing yourself through playing.
All levels and abilities are welcome and instruments are provided, though you're welcome to bring your own if preferred.
To book your place: email or tel 01381 600354
This workshop was formerly programmed for 4 April 2020