When: Friday, August 4th 2017, Start Time: 20:00
Where: The Old Brewery Burnside Place, Cromarty IV11 8XQ
Part of:
Tickets: £10 / £8 concessions / £5 under 16s
Available on the door or info@cromartyartstrust.org.uk
"Folk for modern ears" MAVERICK Magazine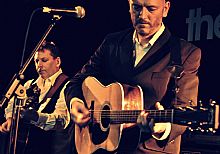 Based in Newcastle Upon Tyne, JINSKI are song writer Stephen Wegrzynski and musician Dave Kennedy, a partnership forged from acoustic roots and the love of a strong melody. Their music touches the borders of folk, country, and pop, keeping alive the song writing tradition whilst remaining resolutely modern.
Playing 'live' with just two voices and two guitars JINSKI have been touring the UK, honing their craft, chalking up the miles and making new friends wherever they play. They have built a reputation for delivering music for the head and the heart that is full of passion, meaning and originality. They have recently played The Sage Gateshead,12 Bar Club London,The Met Theatre in Bury, The Lemon Tree in Aberdeen, and The Musician in Leicester with festival appearances including Reading, Beverley, Shrewsbury and Broadstairs. Notable supports have been to Joe Jackson, Eliza Carthy, The Poozies, O'Hooley & Tidow, The Grahams, The Proclaimers, Lindisfarne and Kathryn Tickell.
They recorded the official Northern Ireland football song in support of their Euro '16 tournament and played this live on BBC 1 "The One Show" in May and were featured on Channel 4 News.
'Down Here' on Lucky Smile Records/Proper Music Distribution is the second album from JINSKI and delivers memorable tunes with a cutting lyrical edge, taking the little things that matter and revealing the bigger picture. Here are songs that capture the moment, ask simple questions and offer some reflection. JINSKI tell stories of love, joy, loneliness and longing, capturing the mundane and the magic in everyday life.
Guest artists include the English accordion queen Karen Tweed, New Rope String Band member Pete Challoner (banjo and fiddle), Jez Lowe's pipes and piano man Andy May and JINSKI stalwart Neil Harland on double bass. It was produced and recorded by Dave Maughan (who has notably worked with Kathryn Williams and Maximo Park).
JINSKI released a 10" vinyl EP called 'Live Long' on Record Store Day Saturday April 18th 2015, and is available as a download.
"It's a thing of beauty, their warm balladry a true balm for the soul"
The Crack magazine, June 2015