When: Saturday, May 6th 2017, Start Time: 20:00
Where: Victoria Hall High Street, Cromarty IV11 8YR
Part of: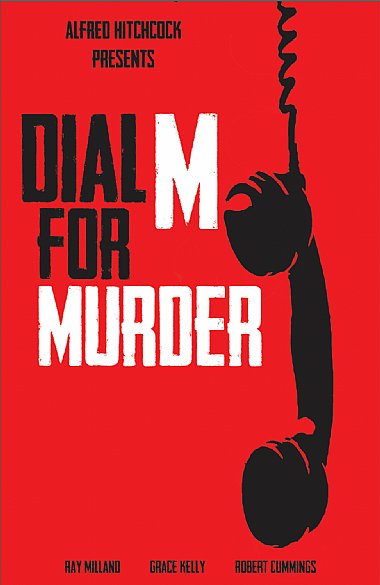 Our Saturday Night at the Movies is the perfect way to round off your Saturday, whether you've immersed yourself in the whole Crime & Thrillers Weekend or just fancy a local night out.
You'll be treated to the Hitchcock classic, Dial M for Murder, introduced by Ian Rankin and with discussion from all our authors about their favourite crime and thriller films of all time.
Bring your own refreshments and we'll treat you to a wee bag of popcorn on arrival!
Tickets cost £10 (£8 concession; £5 under 16). Pay on the door; reserve yours in advance at info@cromartyartstrust.org.uk or call 01381 600354.
Here's a synopsis of the movie...
Dial M for Murder has a romping plot, a gloriously slimy villain and – thanks to the fact that the action is mostly constrained to one room – some of the weirdest, tricksiest camera work of Hitchcock's career.
The plot follows Tony Wendice's plan to have his wife, Margot, murdered so he can collect on her life insurance policy. A former tennis pro whose tour earnings are dwindling, he's also discovered that Margot is having an affair with a famous crime writer called Mark Halliday, who is visiting the couple from America. Wendice has blackmailed an old schoolmate to do the deed and plans to use a boys' night out with Halliday as his alibi. But when the murder's bungled and Margot kills the killer, he's left having to improvise.
Dial M for Murder - cert PG. 105 mins. 1954. Starring: Grace Kelly, Ray Milland, Robert Cummings