When: Saturday, November 7th 2015 - Sunday, November 15th 2015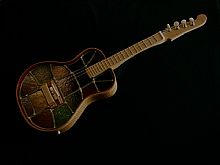 'NICHE': A retrospective exhibition of musical instruments created by Richard A Levens
At The Stables, Cromarty from Saturday, November 7 to Saturday, November 14. Daily 12 - 7pm (except Thursday, 12 - 3pm). Free admission. Collection for the Scottish Refugee Council.
A new exhibition upstairs in the Stables Gallery at in Cromarty features a retrospective collection of work by Orkney-based artist, musician and instrument maker, Richard A Levens. Entitled "Niche", it reflects the artists lifelong involvement with musical instruments from early efforts in the mid 1960's to the present day, with the creation of The Stained Glass Mandolin. Commissioned as the subject for a Raindance nominated short film by Andrew Bullas of Pepwell Films and signed by Robert Plant of Led Zeppelin fame, this illuminating model is about to be auctioned for charity. The prototype will be on show here, along with such diverse creations as The Mandanglin and even a Pizza.
" I have always been fascinated by musical instruments and being a child of the sixties, like most people, guitars have been part of my life, both playing, making and teaching.
But it is in my workshop in Orkney where I enter that totally absorbing world of bringing designs to life, putting together instruments of one form or another."
These days Richard specialises in the four string electric mandolin, a throwback to the Western Swing bands of the 1930's and 40's, and the result of a chance meeting with Scottish author and playwright Duncan McLean. Together they have toured extensively purveying their own brand of Western Swing. This included a stint with the National Theatre of Scotland touring their production of " Long Gone Lonesome" in the UK, Ireland and the USA. Richard does work on other forms, and has recently finished an order for an electric ukulele, fitted with his custom designed tremolo system which was originally developed specially for the mandolin. A demonstration model will be on show during the exhibition.
***The Stained Glass Mandolin which will be on display at the Stables Gallery -along with many more exquisite hand made mandolins by Richard A Levens. He will be on hand throughout the exhibition times to give people more information on the exhibition and share a tune or two with other musicians who are warmly welcomed