When: Saturday, May 7th 2022, Start Time: 15:00, End Time: 16:30
Where: The Stables Causeway, Cromarty IV11 8XS
Part of: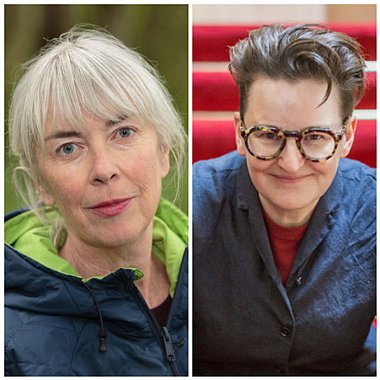 Cromarty-based author Nicola White's award-winning crime trilogy is set in Dublin in the 1980s. Mary Paulson-Ellis writes unconventional detective novels set in Edinburgh that delve into the world of those who die with no next of kin. Join them for a lively conversation as they introduce their latest novels, The Burning Boy and Emily Noble's Disgrace, discuss the wider reaches of crime fiction and consider how to turn the things that haunt you into genre-bending fiction.
Nicola White is the author of three novels. The Rosary Garden won the Dundee International Book Prize, was shortlisted for the McIlvanney Prize and was chosen as one of the best debuts of 2014 by Val McDermid. A prequel to The Rosary Garden, A Famished Heart, was published in 2020 by a new imprint of Serpent's Tail, Viper Books, and The Burning Boy completed the trilogy this year. All three books are set in Ireland in the 1980s. She is a past recipient of Scottish Book Trust's New Writer Award, and a former Leverhulme Writer in Residence at Edinburgh University. She previously worked as an art curator and as a documentary maker with the BBC.
Mary Paulson-Ellis lives in Edinburgh where she writes dual timeline novels about the world of people who die with no next-of-kin. Her critically acclaimed debut, The Other Mrs Walker was a Times bestseller and Waterstones Scottish Book of the Year. Her second, The Inheritance of Solomon Farthing was long-listed for the McIlvanney Prize for best Scottish crime novel and a Historical Writers Association Gold Crown. Her latest book, Emily Noble's Disgrace, is her third novel. Mary has an MLitt in Creative Writing from Glasgow University where, on graduating, she was awarded the inaugural Curtis Brown Prize for Fiction. Her fiction, non-fiction and short stories have featured in various anthologies, the Guardian and on BBC Radio 4. She has been shortlisted as a Breakthrough Author in the Books Are My Bag Readers Awards and named an Amazon Rising Star. In 2019 Val McDermid selected her as one of the ten most compelling LGBTQ+ writers working today. Mary has performed her work at festivals and events across the UK and in Europe and her novels have been translated into German and Dutch. She is interested in what she calls the 'murderous' side of family life.
Both authors will be signing books at the end of the session.
£15
To book your ticket, complete and return the booking form or email / tel 01381 600354.