When: Saturday, September 8th 2018 - Sunday, September 9th 2018, Start Time: 10:00, End Time: 16:00
Where: The Old Brewery Burnside Place, Cromarty IV11 8XQ
Part of: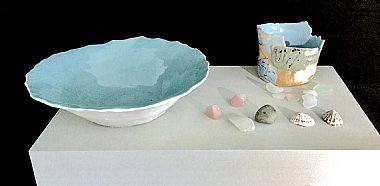 'Learn to make a right use of your eyes', advises Cromarty's favourite son, Hugh Miller.
Join us for a weekend workshop of quiet reflection and meditative exploration of our creative responses to our environment using clay.
During the weekend there will be periods of walking meditation, short breathing spaces and time to explore the seafront and the woods, being with ourselves in nature and working in a way that will encourage our experience of hearing, seeing and touching in a simple direct way.
This is an opportunity to explore various hand building processes such as coiling, slab building, and pinch pots and there will be three different types of clay available to use: earthenware, paper clay and a stoneware raku clay. Once the work is leather hard we can begin working using a variety of slip techniques to add colour and interest to our pieces. The work will be fired for you and, if you choose, a transparent glaze applied. Completed work will be available for collection within 2 to 3 weeks.
Workshop will be led by Kathleen Madigan, a retired psychotherapist who has practiced Zen meditation for over 16 years and taught Mindfulness Based Stress Reduction courses for 10 years.
£125 includes all materials and a delicious, home-made lunch each day.
We require a 25% deposit to reserve your place - email or tel 01381 600354.