Welcome to The Cromarty Arts Trust
We are based in the beautiful Highland town of Cromarty, on the Black Isle. Our goals are to promote and embrace the arts, education, environment, history of the Highlands, and the conservation of buildings of historical or architectural importance.
Covid-19 Update
In the light of latest government recommendations and in the interest of the health and safety of both our staff and guests, we are cancelling all of our events and group bookings at the Old Brewery and Stables from 17th March until 22nd August. We are constantly reviewing the situation and keeping a close eye on government restrictions and advice. Please note, we have rescheduled some of our events and courses so please take a look at the new dates on this site and come along if you still can! In the meantime we wish all our friends and supporters good health and good cheer during this incredibly difficult time.
SURVEY - we have conductied a short, anonymous survey of our regular and potential audiences and participants to gauge the current feeling for when/how/if you feel comfortable returning to our venues for courses/workshops, exhibitions, events and concerts. The feedback and findings will help us draw up how to move forward and continue to offer as full a programme as possible in the future. the survey is now closed. Many thanks to all those who took the time to submit your thoughts. We will share the findings as soon as we have had time to digest and process this end.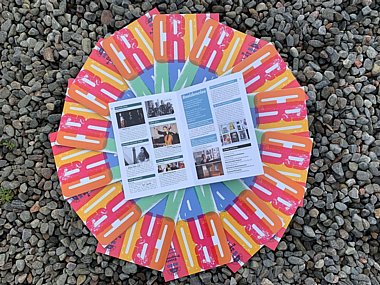 Our full and varied 2020 programme of events, courses, workshops, gigs, concerts and exhibitions is available to peruse on this site. Use the tabs on the menu bar above or squares below to navigate to see what's on in each category. Alternatively, go to the Calendar to check what's happening on a specific date. Happy browsing - we hope to see you soon!
Our bright and colourful, A5, printed 2020 Event Programmes are out now - all over Scotland! Please let us know if your establishment / event would like some to display or distribute?
Please contact us if you are looking to hire space or accommodation or require any further information about any aspect of the Trust's work.
Cromarty Arts Trust is recognised as a Scottish Charity number SC003018
To download a copy of the most recent Cromarty Arts Trust Annual Report, click here, or, for further information, phone us on 01381 600354.
To download a copy of our Privacy Policy, click here.