Benji Cluness
Benji won the Student Residency Prize in 2016. Here is his reflective essay following the residency:
"In October 2016 I spent a month in the town of Cromarty as the recipient of the Cromarty Arts Trust Student Prize Award. Receiving this prize afforded me the time and financial ability to spend a month focusing directly on my practice, something that I have not had the chance to do since graduating from the Glasgow School of Art in June 2015. To be able to take such a substantial amount of time to evaluate where it is that I want to take my artistic practice has been invaluable and I couldn't have wished for a more picturesque place to do so than Cromarty.
I travelled north with no preconceptions of the work that I wanted to make, I wanted to take time to get to know the town and its inhabitants before settling down to make anything. It was always apparent in my mind that I did not want to make an artwork that was specific to Cromarty, but was informed by the place and my time there.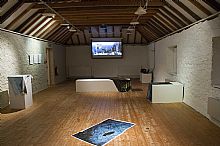 I travelled up to Cromarty on a Saturday, catching the train from Glasgow Queen Street to Inverness, before continuing on by bus to Cromarty. As my bus crossed the hill I saw the Cromarty Firth for the first time and was immediately blown away by the desolate oil rigs that stood out on the water. My initial excitement at seeing these structures never waned during my month long stay and I knew straight away that they would feature in my work in some way or another.
I spent the first fortnight walking around the town and the surrounding areas, getting acquainted with the town and people. I would take my video camera out with me, filming the rigs, not sure what the footage would become. I learned an old folk tale of two giants who sat atop the Sutors of Cromarty and this provided the initial spark for a body of research into the folk lore of Britain. This research eventually formed the basis of the film Adderstanes, the film looks at this folk lore and mixes it with the history of industry in the U.K.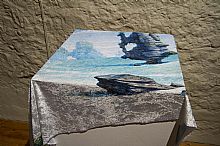 My residency culminated in an intimate show at The Stables in Cromarty that featured Adderstanes and a series of fabric prints. I thoroughly enjoyed my time with the Arts Trust and really appreciate how keen they were to facilitate my every whim: organising boat trips to take me out to the rigs, sourcing a suitable actor to provide the voiceover for my film and introducing me to lots of helpful people. Since my residency I have a clarity in my practice and a keen sense of how I want to pursue my career, this is largely due to having the time and space that this residency provided."