Student Residency Prize
Unfortunately we are not able to offer the Student Residency Prize in 2023. We do apologise to anyone that was hoping to apply. The prize will return in autumn 2024 - the residency dates being 1 to 31 October 2024.
Who Can Apply?
The Cromarty Arts Trust Student Residency Prize is open to any student who will graduate this year OR any artist who has graduated in the past two years, from a college or university in Scotland and in ANY art form.
The prize consists of a student residency at the Cromarty Stables for one month in the Autumn each year. Please only apply if you are able to attend at this time.

Cromarty itself is a rather special part of the world – a small town on the peninsula of the Black Isle that is not only beautiful and vibrant, but brimming with history, wildlife, geology, important architecture and one of the friendliest places you could hope to visit! With award-winning cafes, restaurant, shops and galleries and a resident population of bottle-nosed dolphins in the Firth, it's not surprising that it is consistently listed in the 'top places to live in Scotland' lists in various press publications.
What You Get
En-suite, self-catering accommodation in Ardyne House

Studio space amongst a friendly bunch of like-minded, local artists in the Stables studios

A grant of £750 towards travel, materials and subsistence costs

Experience of life in a small but vibrant, coastal Highland town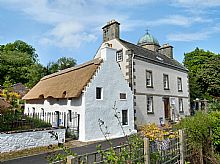 The residency is primarily intended to provide an opportunity for the winning artist to develop their own work in a new and inspiring environment at the beginning of their artistic career.


What We Get
The resident artist will also be expected to:
Hold an event such as a talk or workshop and a small, informal exhibition.

Write a short retrospective report about their residency.

Leave behind a piece of their work for the Cromarty Collection.
How To Apply
Applicants should send:
Completed application form

A maximum of 5 items: photographs, written pieces, examples of work

A brief statement (max 1000 words) about the themes you would hope to explore or develop during the residency, what you would hope to get out of your time in Cromarty, why you should be chosen, etc.

Two relevant references should be provided along with your application.
We prefer applications to be emailed to info@cromartyartstrust.org.uk or via a web-based file sharing system such as Dropbox, etc.
Applications should reach us no later than 1 July 2024.

What Happens Next?
A Highland-based panel which will include at least one established artist and representatives of arts organisations and the Cromarty Arts Trust will decide on the winner and all entrants will be notified by email.
Further questions? Just email us and we'd be happy to chat anything through!
To see and hear about the experiences of previous winners, click here.