Japanese Boro 'Slow Stitching'

Saturday 15th and Sunday 16th October.


2-day workshop at The Stables, Cromarty.
Experience the delightful method of slow stitching in the wonderful setting of the Cromarty Stables. Taking our inspiration from Mottainai, meaning too good to waste, we will take scraps of fabric and visibly patch them together in the Japanese tradition of make do and mend, called 'Boro'.

We will utilise various methods of basting, stitching and applique to create an abstract textile piece which can then be made into a keep-sake, heirloom lampshade.
You will be guided through various design methods and supplied with inspiration for your work and all the materials needed to complete a lampshade. All you need to bring is a sense of adventure, the willingness to relax and enjoy the creative moment, and a packed lunch. Tea, coffee and biscuits will be provided.

This 2-day workshop is suitable for all levels, beginners and experienced sewers. Gentlemen, if you have ever wanted to try sewing in a secure and inclusive environment, this may be your way in to a very rewarding pastime.
Saturday, 15th and Sunday 16th October. Price £140.
To book or for more information please email Gillian Neish at
gillianneish@yahoo.co.uk Phone: 07850029306
Textiles & Stained Glass
A weekend of Colour in Cromarty – April 15th to 17th 2016.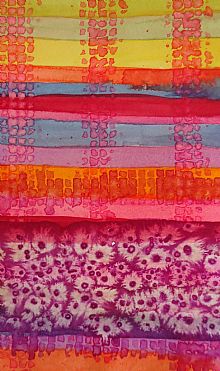 Weekend workshops and an Exhibition of Mixed Media Artwork, Stained Glass and Textiles by Morag Tweedie and Anne Ferguson in the Stables, Cromarty. All materials provided. Bring a packed lunch. Price for full weekend, £150. Accommodation available at the Old Brewery.


Friday 15th, evening. Colour and Collage

, 6.30 to 8.30pm.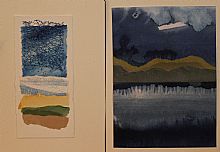 Enjoy exploring colour and composition using simple collage techniques to produce finished works or a collection of sample pieces. £20.


Saturday 16th. Textiles – Heat Transfer Printing

, 10am to 4.30pm.

Learn how to transfer colour, pattern and texture from paper to fabric using this simple and
effective printing process. During this experimental, hands-on workshop, participants will have the opportunity to produce a range of textile pieces to use in other projects or for framing. Workshop suitable for complete beginners as well as for those with some experience. £60.
Sunday 17th. An Introduction to Leaded Stained Glass

, 9.30am to 5pm.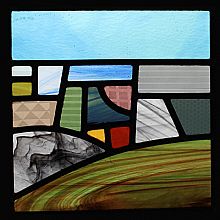 Produce your own small individual coloured glass panel in this one-day introduction to traditional leaded glass techniques, including cutting, leading, soldering and puttying. No previous experience required. £75.
Costs including all materials
Full weekend - £150
Individual workshops - Fri £20, Sat £60, Sun £75
Tea, coffee and biscuits will be provided. Please bring your own packed lunch.
.....and a weekend Exhibition of Mixed Media Artwork, Stained Glass and Textiles by Anne Ferguson and Morag Tweedie - Stables, West Wing.
Tutors Anne Ferguson and Morag Tweedie
Both Anne Ferguson and Morag Tweedie are graduates in Printed Textiles from Glasgow School of Art and have worked as teachers, artists and designers in a variety of fields. Colour, pattern and a keen eye for observation are key components within their art and textile work. They regularly exhibit throughout Scotland, run workshops in Scotland and Spain and have undertaken design consultancies in Lesotho, Southern Africa.