Young Harp Learners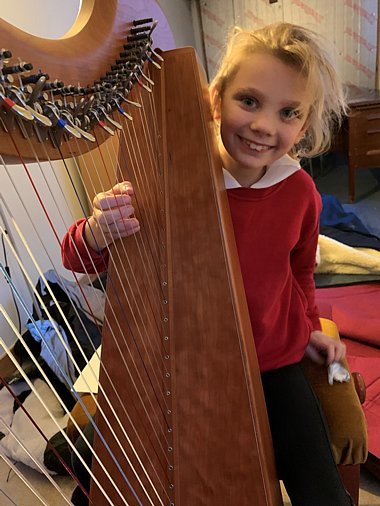 In 2019 we secured funding from Northern Meeting Charity to help fund new subsidised harp lessons for four Cromarty youngsters. At the beginning of 2020, the lessons began after school under the guidance of tutor, Abigail Millar Todd and the girls, then aged 8 & 9, quickly took to learning despite never even having touched a harp/clarsach before or learned other instruments.
Sadly, we were hit by COVID in March and with subsequent lockdowns, lessons ground to a halt. Abigail managed to send links to virtual lessons she prepared so that the learners could continue from home over the summer. With Abigail having moved on to further her own musical studies, we secured the talents of another Cromarty local player and teacher, Inga Shaw. Lessons resumed in August 2020 and all four learners progressed well, even giving their first performance to parents at a socially-distanced get-together in December! You can watch their two pieces here: The Arran Boat Song, Silent Night.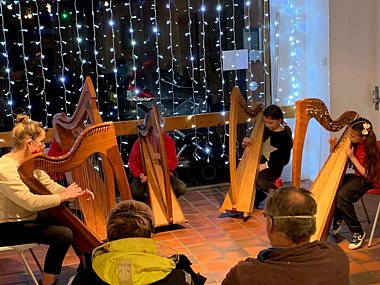 We have since received further funding and the young learners have gone from strength to strength.
Many thanks to Northern Meeting Charity and Fèisean nan Gàidheal for the long-term rental of instruments.
We are currently looking for a new harp tutor and would welcome hearing from any local teachers who might be interested. Email info@cromartyartstrust.org.uk