When: Saturday, September 11th 2021 - Sunday, September 12th 2021, Start Time: 10:00, End Time: 16:30
Where: The Stables Causeway, Cromarty IV11 8XS
Part of: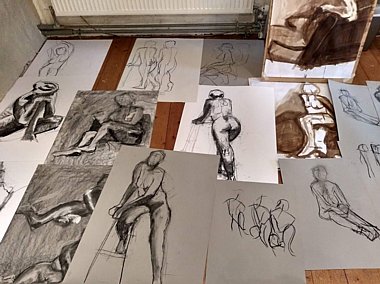 This course is now FULLY BOOKED! If you wish to add your name to a waiting list, please email us.
In this two-day workshop we will look at a variety of ways to explore life drawing, examining how to get proportions correct and exploring a variety of ways to 'mark-make' in direct response to the model.
You will look at line, tone and a various mediums to create strong drawings. Several exercises will be set to help improve life drawing skills and tutor, Jonathan Shearer, will also demonstrate and provide illustrations of a variety of different techniques and styles of life drawing.
This course is suitable for all abilities.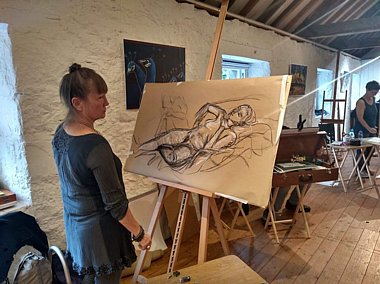 Please bring a sketchbook, paper (A2 or larger), charcoal, compressed charcoal, pencils, masking tape, erasers, hairspray (fixative), black ink (optional) and any other drawing materials you may wish to use. If you wish to work in colour you're welcome to bring soft pastels, watercolour or acrylic/oil pain, palette if you prefer.
£150 Includes tea / coffee and delicious, home-made lunch each day at the Old Brewery.
To book your place, request a booking form by email info@cromartyartstrust.org.uk or tel 01381 600354.
COVID-19
All our courses are run in strict adherence to the Covid safety protocols and regulations at the time. We exercise social distancing throughout the course as well as regular sanitising, wiping down of any shared equipment between uses, strict hygiene rules throughout each venue, wearing of masks in all communal areas, temperature checking on arrival and constant monitoring of the comfort and safety of participants. If you feel at all unwell prior to the course, please alert us and DO NOT attend.

As everyone is well aware by now, the Covid situation and subsequent government restrictions and advice can change on a daily basis. We will inform you of any cancellations or changes to any element of courses as soon as we become aware of these. If you have any queries, please do not hesitate to get in touch.
This is event is now full.