Event Cancelled
Event: Cancelled
When: Saturday, June 13th 2020 - Sunday, June 14th 2020
Where: The Old Brewery Burnside Place, Cromarty IV11 8XQ
Part of: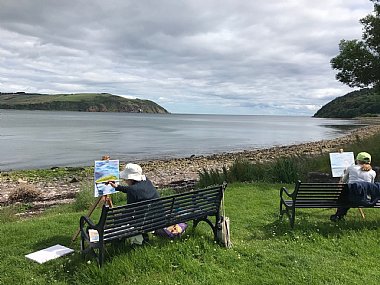 COVID-19: With regret, this workshop is now CANCELLED. There are still places available on a similar course, Landscape Painting in Oils.
The aim of this workshop is to explore the versatility of painting and drawing through the process of mark-making and how to translate our direct response to the landscape to our canvas. Working directly in the landscape you will explore ways of working in sketchbooks and how to scale-up to bigger canvases outdoors. During the workshop, tutor Jonathan Shearer will demonstrate different techniques and offer as much one-to-one teaching as possible.
A small, friendly and informal workshop with the focus on individual development.
Participants will be sent a materials list in advance.
£115 Includes a delicious, home-made lunch each day.
To book your place, request a booking form by email or tel 01381 600354