When: Saturday, May 13th 2017, Start Time: 20:00
Where: The Stables Causeway, Cromarty IV11 8XS
Part of:
Tickets: £10 / £8 concessions / £5 under 16s
Available on the door or info@cromartyartstrust.org.uk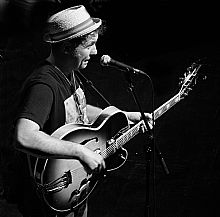 Martin Stephenson has been one of the UK's best-loved musicians for 30 years.
Always popular on the circuit, Stephenson's "must see" live performances are an exuberant tour-de-force combining heart-in-your-mouth intimacy with playful humour and warm self-deprecation.
The Daintees' critically acclaimed 1986 debut 'Boat to Bolivia' opened up an always interesting story. It showcased Stephenson's songwriting, poetic romanticism and spiritual depth – so marking him out as a soulful cream of the leftfield crop during the self-obsessed 1980s. (A celebratory tour of the 30 year anniversary of this phenomenally successful album toured the UK at the end of last year).
Never pandering to a particular scene, Stephenson's lightness of touch on a varied mix of musical styles was immediately apparent. His path was destined to be a lifelong journey through the music he loved: folk, ragtime, jazz, rockabilly, show tunes, punk-pop and country.
The NME said of Martin's song craft that he "builds bridges between love and hate, cradle and grave, folk and pop, past and present."
Stephenson's restless troubadour spirit has amassed an extraordinary catalogue of some 40 albums and he is a gifted, entertaining and much-loved performer.