Event Postponed
Event: Postponed
When: Friday, September 18th 2020 - Sunday, September 20th 2020
Where: The Old Brewery Burnside Place, Cromarty IV11 8XQ
Part of: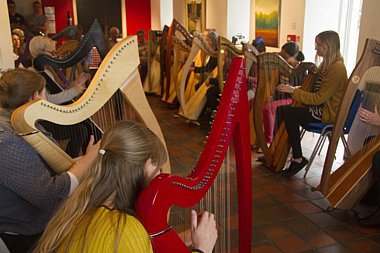 Covid-19 Update: With great regret, we feel we must cancel this year's event and look forward to what we hope will be an even bigger and brighter Harp Village in September 2021. Social distancing requirements would mean us having to drastically cut participant numbers and change many of the elements of this predominently residential weekend that contribute to the atmosphere of harmony, warmth and fun. There may yet be alternative, online tutorials by Corrina and others to follow - keep an eye out for those!
The Cromarty Harp Village is a three-day residential weekend of music in the beautiful surroundings of the Old Brewery. There are workshops all day on Saturday and Sunday run by Corrina Hewat, Rachel Newton, Cheyenne Brown and Isbel Pendlebury suitable for elementary, intermediate & advanced levels. There will be a Tutors' 'World Premiere Harp Quartet' Concert on the Friday evening plus an all-inclusive Session in the Loft Studio of the Old Brewery – sea views and wonderful acoustics – offers a relaxed opportunity for participants to get to know each other and play together or just sit back and enjoy the music.
Everyone will have individual support as well as group work as the classes will be kept to limited numbers so please book in advance to secure a place.
Please note: we regret we are unable to offer a Complete Beginner harp class this year.
Timetable (all meals and concerts are in the Old Brewery):
Friday 18th
6.00pm - Welcome Drinks & Dinner with wine
8.00pm - Tutors' Concert
Saturday 19th
10.00am - 12.00pm - Workshop 1
12.30 - 1.30pm - Lunch
2.00 - 4.00pm - Workshop 2
6.00pm - Saturday Dinner with wine
8.00pm - Harp Session - open to all
Sunday 20th
10.00am - 12.00pm - Workshop 1
12.15 - 1.15pm - Lunch
1.30 - 3.30pm - Workshop 2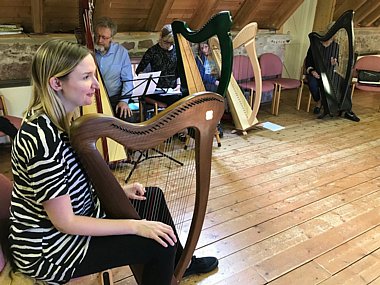 When you book, choose one of four levels: Lower Elementary, Upper Elementary, Intermediate or Advanced.
If, after the first workshop, you or your tutor feels you are in the wrong level, you can move either up or down - we want you to feel comfortable and get the most out of the expert tuition on hand!
You can join in with as much or as little as you like and all the above elements are priced individually on the Booking Form (links at top of page). Alternatively, you can opt for the Residential Package and stay over with comfortable B&B rooms within the Old Brewery.