When: Saturday, March 20th 2021 - Sunday, March 21st 2021
Part of: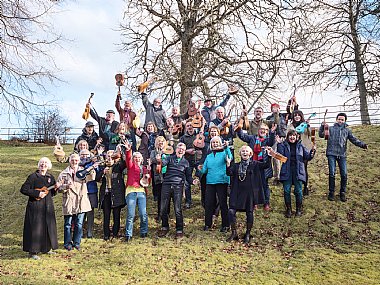 Due to the pandemic, we regret we're unable to hold this event as a live / residential in Cromarty in 2021. However... Finlay Allison, Celtic Connections Zoom Wizard, returns to Cromarty for a VIRTUAL Ukulele Weekend with a range of exciting new workshops!
All these workshops are 'stand alone'. Develop a toolbox of techniques that you can apply to invigorate and develop your ukulele skills no matter where you are in your playing. Whilst we'll miss the usual craic and seeing everyone in person, the silver lining of doing it this way is that we can reach a whole lot more of you, from all over the world, plus nobody needs to contend with potentially snowy conditions - hurrah!
All our bookings this year are through Eventbrite. Just click on the links below to take you to the correct event page where you follow instructions to purchase your tickets. Hopefully all will be clear and the weekend will run smoothly - but please bear with us, this is our very first online event! If you have queries, please do get in touch via email.
All workshops cost £10 + booking fee.
Saturday 20th March
10.30 - 12.00 Ukulele Blues Workshop To book this workshop, CLICK HERE
Licks, turnarounds, intros and breaks, shuffles and fills - all the tricks needed to buiild a convincing blues ukulele repertoire lie just at your fingertips!
13.30 - 15.00 Jug Band Jump! To book this workshop, CLICK HERE
Goodtime music never loses its lustre and the Jug Bands of the '30s and '40s had some of the best naughty and jivin' songs to make you smiile and tap your feet. Finlay will show you some of the classics of the genre with some hot licks and fills to make your uke jump!
15.00 - 16.30 First Steps In Uke To book this workshop, CLICK HERE
The talented Amy Allison (Finlay's daughter) will take you through all the basics and get you off the launch pad and into playing some fun songs. Please note, this isn't suitable for an absolute complete beginner - you should have your own instrument and be able to tune it before the workshop starts.
Sunday 21st March
10.30 - 12.00 Scottish Ukulele Workshop To book this workshop, CLICK HERE
From Harry Lauder to the Scottish folk scene, the ukulele goes from strength to strength. Improve your strumming and chord playing while refreshing some great classic singalong Scottish songs.
13.30 - 15.00 Bring Back the Beatles! To book this workshop, CLICK HERE
How a little 4-string ukulele encompasses the sounds of the world's best ever 4-piece combo...well, up to a point! There was no-one to touch these master songwriters in their day. They progressed from a tight little beat combo to become giants of recording, unmatched before or since. Finlay will spice up your uke repertoire by taking a Magical Mystery Tour through some of their greatest (and some of their lesser known) classics.