When: Friday, March 19th 2021 - Sunday, March 21st 2021
Where: The Stables Causeway, Cromarty IV11 8XS
Part of:
Cromarty Ukulele Weekend
COVID-19: Due to the pandemic situation, we are still considering how best to move forward with this event. We had hoped that by March 2021, things would be such that our usual residential weekend could perhaps have gone ahead. This is clearly not the case sadly so we will either postpone for another year or move as much of the programme online as is possible. WATCH THIS SPACE FOR FURTHER UPDATES SOON! Those that have booked previously will be contacted individually. Many thanks for bearing with us.
Amended booking form will be available here shortly!
Finlay Allison, presenter of the Ukulele School at Glasgow's Celtic Connections, returns to Cromarty with great, brand new and fresh workshops for 2020! All these workshops are 'stand alone.' You can opt to take as many or few as you wish, however, if you sign up for them all you will progress through a series of linked themes and develop a toolbox of techniques which you can apply to invigorate and develop your ukulele skills no matter where you are now...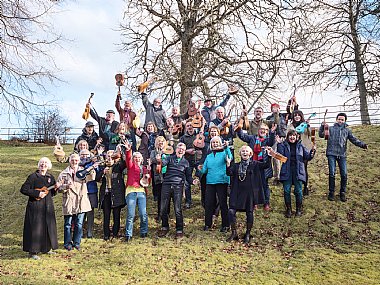 Saturday 20th, 10.30 - 12.30 - £15
Workshop 1: Ukeing The Blues
Licks, turnarounds, intros and breaks, shuffles and fills - all the tricks needed to build a convincing blues ukulele repertoire lies just at your fingertips.
Saturday 20th, 14.00 - 16.00 - £15
Workshop 2: Jug Band Jump!
Goodtime music never loses its lustre and the Jug Bands of the '30s and '40s had some of the best naughty and jivin' songs to make you smile and tap your feet. Finlay will show you some of the classics of the genre with some hot licks and fills to make your uke jump!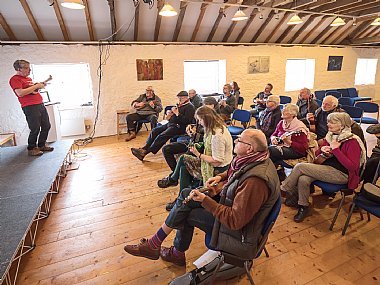 Sunday 21st, 10.30 - 12.30 - £15
Workshop 3: Scottish Favourites
One hundred years ago, Harry Lauder was top of the pops and the ukulele was taking the world by storm. The Scottish Folk scene began 60 years later and provided many classic songs to the repertoire. Improve your strumming and chord playing while refreshing some great classic singalong Scottish songs.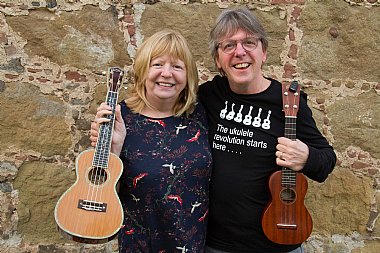 Sunday 21st, 14.00 - 16.00 - £15
Workshop 4: Beatles on Uke
There was no one to touch these master songwriters in their day. They progressed from a tight little beat combo to become giants of recording, unmatched before or since. Finlay will spice up your uke repertoire by taking a Magical Mystery Tour through some of their greatest (and some of their less well-known) classics.


After the workshops you can download the worksheets and keep working on the material he has prepared to keep you improving for months to come!
COMPLETE BEGINNERS - Sat 20th - 11.00 - 12.30 - £10
We also offer a Complete Beginners one-off session on the Saturday morning with Finlay's other half, Marie Therese, for anyone keen to give this verstatile instrument a first go! And if you don't have a uke, don't panic as we can provide one!
IMPROVERS - Sat 20th - 14.30 - 16.00 - £10
For those wishing to continue learning from the morning's Complete Beginners Workshop, why not give the Improvers class a go? Let us know if you would like us to provide you with a uke.
As well as the workshops, there's an introductory dinner on the Friday night (with complimentary glass of bubbles!) followed by a gig up at the Stables with a band (to be finalised!) (discounted tickets for Uke Weekend participants). There are lunches and dinners throughout the weekend you can also join in with and two Residential Packages should you wish to stay over in the comfortable Old Brewery. See Booking Form for timings and prices and choose as many or few options as you like!