When: Thursday, July 22nd 2021, Start Time: 15:00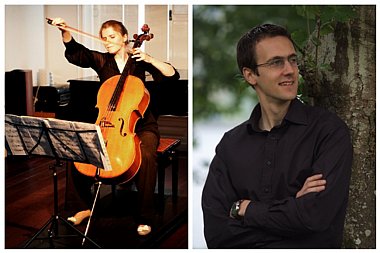 Cellist Katy Bell and pianist Robin Versteeg are no strangers to performing for the Trust having played in the Stables under various guises and groups over the years.
They return for this French selection, performing the same programme on the evening of Wednesday 21st AND the afternoon of Thursday 22nd July. This will enable us to keep audience numbers low to ensure social distancing whilst not reducing overall capacity.
Programme
Faure Cello Sonata no.1 Op. 109
Dutilluex Trois Strophes Sur le Nom de Sacher for cello solo
Faure Elegie
Faure Papillon
Interval
Saint-Saens Les Cloches du Soir Op. 85 for piano solo
Debussy Cello Sonata
Gabus Deploration Pour Une Amie Defunte for cello solo
Tickets: £10 each
Only available in advance - no door sales.
Please note: when you book, let us know who in your party is in your 'bubble' and who is not, if relevant. We have to set up the audience seating to reflect these bubbles and you will therefore have allocated seats on arrival. If there are any changes to your booking / group / bubble, please let us know in advance of the concert so we can try and accommodate this. It's a rather drawn-out process but for everyone's comfort and safety, it has to be done this way. Please bear with us!
You will need to wear a face covering on arrival and departure and communal areas but CAN remove it once you are seated for the duration of the concert. There will be no interval and no refreshments available though you are welcome to bring and consume your own.
To book tickets, email us on info@cromartyartstrust.org.uk or tel 01381 600354. We can take payment by bank transfer (preferred method), card payment, cheque or cash. Our office is no longer open every day but someone will get back to you as soon as possible.
Katy Bell - Cello
Katy grew up in Glasgow and studied at the Guildhall London and then in the USA. She was a member of the Arba String Quartet in the Netherlands. She is a busy teacher and performer and has left Inverness to be found these days back in Glasgow.
Robin Versteeg - Pianist
Robin was born and brought up in Edinburgh and educated at the University of Edinburgh and the Royal Academy of Music, London. As a collaborative pianist Robin has worked widely in auditions, workshops, and festivals for such organizations as NYCOS, NYOS, Scottish Opera Education, and Cappella Nova, and as a founding member of the chamber trio Vocali3e he was featured in Creative Scotland's curated showcase "Made in Scotland" commissioning, premiering, and recording Jennifer Margaret Barker's Burns song cycle, A Lassie's Love.
Since moving to the Highlands in 2016, Robin has remained in demand as an accompanist, partnering in recital such artists as cellist Katy Bell and baritone David Jones, with whom he will collaborate on Song Cycle 2020 next year, and in festivals in Inverness, Lochaber, and Badenoch and Strathspey. As a conductor of notable breadth, Robin has directed choirs and orchestras throughout Scotland working with musicians of all ages, and with groups both amateur and professional. He has been with the remarkable community orchestra Ness Sinfonia since 2017, was instrumental in the founding of Cairngorms Orchestra last year and is conductor of Highland Chamber Orchestra. Additionally, Robin is on the music examiner panel for Trinity College London and has authored many programme notes for orchestras such as the RSNO and Freiburg Baroque Orchestra.