When: Thursday, November 24th 2016, Start Time: 19:30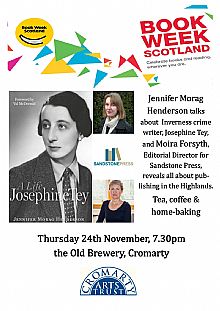 Inverness author, Jennifer Morag Henderson talks about her biography of Scotland's famous crime-writer, Josephine Tey.
Plus Moira Forsyth, Editorial Director for Sandstone Press, will talk about publishing in the Highlands.
This is an event promoted by Book Week Scotland. Admission is free and there will be complimentary tea, coffee and home baking. AND a free copy of the Book Week Scotland book 'Secrets and Confessions'
At the Old Brewery, Cromarty on Thursday, 24th November at 7.30pm.
Jennifer Morag Henderson has had articles, short stories and poems published in magazines and anthologies, including Riptide (Two Ravens Press), Northwords Now, The Dalhousie Review, Gutter, by the BBC and others. As a playwright her work has been performed for the National Theatre of Scotland's Five Minute Theatre project, and elsewhere. She holds an MA in English Language and Sociology from the University of Glasgow, and a Graduate degree from Dalhousie University, Nova Scotia, Canada.