When: Tuesday, April 25th 2017, Start Time: 20:00
Where: The Stables Causeway, Cromarty IV11 8XS
Part of:
Tickets: £10 / £8 concessions / £5 under 16s
Available on the door or info@cromartyartstrust.org.uk
The ingredients for 'SONGS THAT MATTER' are:
1 piano, 2 singers, 20 songs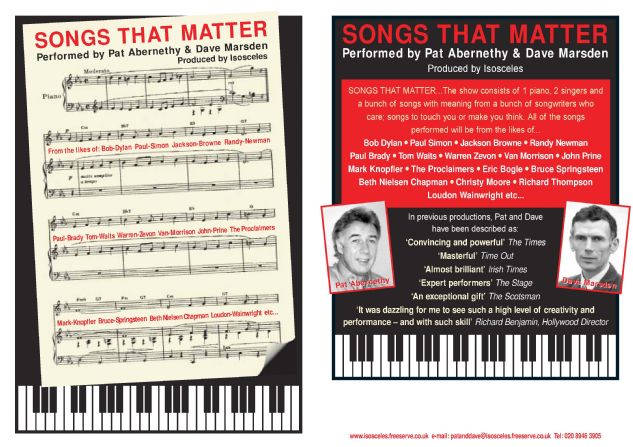 The songs are by some of the finest …. Bob Dylan, Paul Simon, Randy Newman, Christy Moore, Mark Knopfler, Paul Brady, Beth Nielsen Chapman, The Proclaimers, Warren Zevon, Eric Bogle, Tom Waits, Loudon Wainwright, Van Morrison … and more!!
This blend is wide - from the satiric to the deeply personal, from the protest to the plaintive – but all have one thing in common – they touch the senses the way good songs should.
There's no mystery to this compilation … but it might just be magic….
Performed by Pat Abernethy and Dave Marsden who are ISOSCELES.