When: Sunday, November 4th 2018, Start Time: 14:00, End Time: 17:00
Where: The Stables Causeway, Cromarty IV11 8XS
Part of: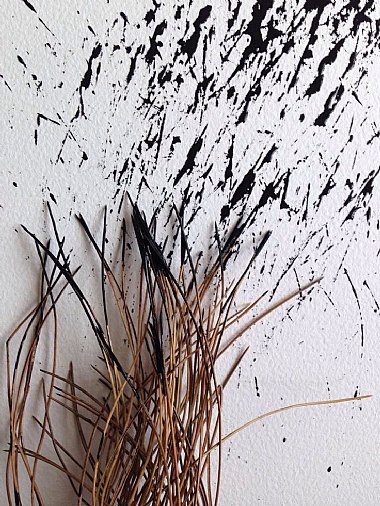 Join our international artist-in-residence, Kuzana Ogg, in opening your eyes to the freedom and creativity of 'experimental drawing'. Using a range of household objects and natural items you will learn to communicate mark, atmosphere and image using ink and pencil. You'll expand and sharpen your personal visual vocabulary whilst broadening your experience of drawing to include methods of collaboration and experimentation with a range of materials.
A really fun and different way to spend your Sunday afternoon! Open to all abilities.
This is the second of two workshops over two weeks. You can attend just the one or both as the content is different in each.
Learn about the first workshop here.
The class will consist of:
Introduction
Tactile - creating a route of communication between your two hands. Blind folded, you will have one hand on the object and one holding your pencil. You will receive information through the sense of touch and articulare it by drawing.
Continuous line/contour - work without lifting the pencil from the paper, learning about varying pressure and speed
Work with your found image
Second drawing collaboration
Review and discussion
Participants will need to bring:
18x24 sketch paper
B pencils (2 per student) & sharpener
Scissors
String
Cardboard
Glue stick
Duct tape/packing tape
blindfold
Small object with several contours; shell, stuffed toy, shoe
2 black and white images (newspaper or photocopy as these will be cut)
Cost: £30
Reserve your place by email or tel 01381 600354