2021 Winners - Rory & Rylan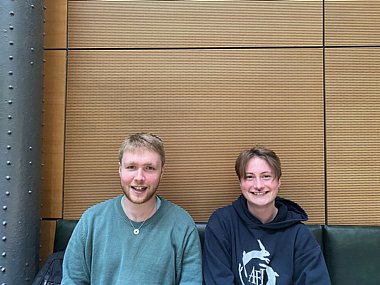 We are delighted to be able to offer two Student Residency Prizes this year (many thanks to Lucy Fergusson for continued financial support with this!). With a strong field of talent among the submissions, the judging panel opted to take a different tack for the Trust this time, with sound/music featuring highly amongst the work of recipients Rory Green and Rylan Gleave.
Said Rory on learning of his win, "I'm beyond delighted to be attending this year's residency - after spending a year making reflective works about Scotland's natural beauty from the concrete expanse of Glasgow, it seems too good to be true to be leaving for a month to work somewhere rural. I'm particularly looking forward to researching the local area's history and folklore, as well as talking to resident musicians to create ambient music that encapsulates my experience of the location."
And Rylan's take, "I'm overjoyed to be able to take up this opportunity, and really looking forward to meeting the Cromarty folk! My compositions and singing practice are often influenced by the natural world and rooted in community, and so I can't wait to see the places that people recommend to visit, and to hear about the significance that these places have."
Rory and Rylan will be in Cromarty during November 2021 and we'll be keeping you up to date with their plans and work during that time.
Want to know more? Read on...
RORY GREEN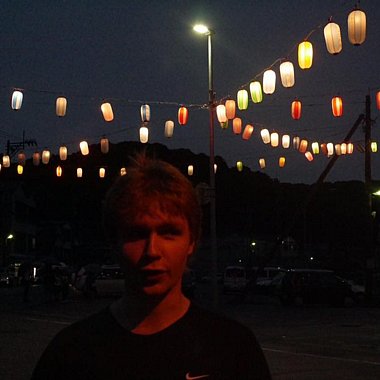 Born in rural Scotland to two orchestral musicians I grew up surrounded by nature and music. I began playing violin at an early age and then guitar in my teens. Glasgow nightlife introduced me to electronic music, and music production, and I've spent several years producing and performing electronic music around Glasgow and the rest of the UK. Having taken part in a sound arts residency and completed a sound arts design degree at Glasgow School of Art, my focus has shifted towards the sonic arts. My current goals as an artist are to explore my love for the natural world within my practice, with particular focus on designing generative systems that tell the stories of natural and historic occurrences; to translate how the catharsis I feel amongst nature can be expressed through generative sound synthesis practice, and hopefully to translate this catharsis to my audiences. My work blends sounds of the natural world with ambient music and soundscape design, manifesting as both escapism from the human modernity, and reflecting on the need for rapid climate action.
What I'm up to:
COP26
I'm currently taking part in a cohort of artists who've been asked to create challenging works around the climate crisis and the COP26 conference in November. I'm using the opportunity to facilitate the development of the others' works with experimental sound and music.
Sàimh Sound
Sàimh Sound is a project I run with my close friend Colin, where we make meditative works focussing on Scotland's natural beauty and cultural heritage, centring our work on decolonialised history, folklore, and growing threats from climate change.
TIFF
I'm currently scoring a film for Taiwan International Film Festival Edinburgh, where I will live score Deng Nan-Guang's "8mm Movies," with digital systems and modular synth. The music expresses melancholy around cultural "normality," despite tumultuous geo-political turmoil.
Soundplay Projects
I also work with a group called Soundplay, creating and holding sensory experiences for children, predominantly with additional support needs. We work in schools and run studio sessions for
Manuka
Using the moniker "Manuka" I release club-centric electronica, deploying experimental sound synthesis systems and rhythm design.
RYLAN GLEAVE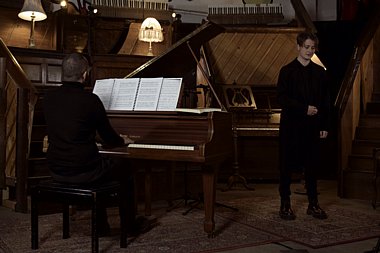 I'm a composer/performer whose musical practice is inclusive, imaginative, and accessible. Trained at Chetham's School of Music (Manchester), then the Royal Conservatoire of Scotland (Glasgow), I currently live in Edinburgh, and work as a a freelance composer, vocalist, and singing teacher. My compositions have been praised as 'haunting' by The Herald, and 'rapturous' by The Scotsman, who named me 'One to Watch' 2021, kindly describing me as 'one of the brightest lights in Scotland's new music scene'.
My music is often both autobiographical and extended outwards toward community. I'm drawn to imperfections in sound, and the specific grains of colour behind extended instrumental and vocal techniques. My professional affiliations include Paraorchestra, as a composer/performer: JACK Quartet, as a JACK Studio Artist 2020-22: theatrical black metal band Ashenspire, as live vocalist: and The Musician's Company, where I was awarded the Silver Medal 2020, becoming a Young Artist of the company until 2025.
What I'm up to:
My current projects include new notes; better days, working with Cox's Bazar Rohingya Refugee Musicians in Bangladesh, after receiving a British Council Unlimited Micro Award: and KITH, nominated for Forecast Edition 6, Berlin, where I am mentored by composer/ performer Sofia Jernberg, working with experimental vocals and intersectional marginalised community. I was recently selected to represent Scotland at ISCM Word Music Days 2021 – Shanghai and Nanning, and my work Walrus was selected for publication in NewMusic Shelf's Anthology of New Music for Trans and Nonbinary voices, Vol. 1. Currently, I am developing my practice on the Royal Philharmonic Society's Composers Programme, National Theatre of Scotland's Neurostages, remote_CTRL residency, and the Touretteshero Young Artist Development Programme. I'm working on commissions for Crossing Borders Music and Momenta Dance Company (Chicago), newEar Chamber Ensemble and No Divide KC (Kansas), Shadwell Opera and CRIPtic Festival (London), and the West End Festival (Glasgow).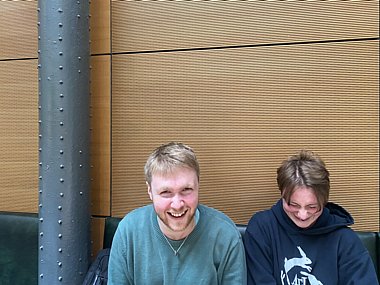 Ideas for Cromarty residency from Rory and Rylan include: experimental performance in the cinema, with live scoring of film; contextualise film & performance with local history/folklore/contemporary such as climate change/local scientific community; work with local music & art community, workshops, recording sessions, graphical score creation & interpretation; workshops with primary and/or secondary school age children creating graphic scores alongside basic vocal technique, then performing and recording these graphic scores; exploring vocal technique in a variety of spaces, and documenting gestures in a mix of Western and graphic notation.
Phew! Sounds exhausting and very exciting! We look forward to bringing you updates in due course...