Hannah Fleetwood
Hannah won the Student Residency Prize in 2017. Here is her reflective essay following the residency:
"I graduated from the Edinburgh College of Art in August 2017 with an MA Illustration. My practice during the year-long Masters programme involved using a combination of ethnography and anthropology to produce intricate paper-cut illustrations. One of the projects featured in my degree show, entitled Food Nostalgia, involved interviewing my classmates about their relationship with foods from their native countries. The thirteen respondants described the dish in aesthetic detail and also told me about a memory associated with the dish in question. I crafted each of the thirteen dishes out of paper, photographed them and assembled them in an interactive book format, which allowed the reader to interchange the pages.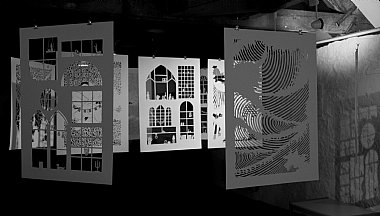 When I finished my degree, I went on to receive the Cromarty Arts Trust Student Residency Prize, which allowed me to travel to the Highland village of Cromarty for a month to work on a self-initiated project of my choice. I wanted to use this opportunity to further hone my experiences of delving deep into a subject, to further inform my artwork. In September 2017 I travelled to Cromarty and planned to get to know as many local makers as I could. My initial plan was to visit the makers in their respective work spaces and then illustrate these spaces using my preferred medium, paper. I spent my first 3 days in the village exploring my new surroundings, walking for hours and sketching as I went. I grew up in a rural Irish town and being in Cromarty reminded me a lot of my upbringing, the clean sea air and stunning scenery inspired me greatly and this is when my concept changed. The Trust very kindly organised a welcome meal for me in my first week, it was an opportunity to get to meet some of the wonderful individuals associated with the Trust. I engaged with some very interesting people and arranged to visit them in their workspaces and homes.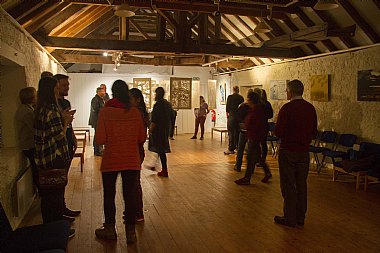 I pondered over these conversations while I sought my own inspiration, taking regular walks around Cromarty, exploring its charming streets. I became fascinated with the trinkets that adorn many of the windows in the village. These personally, lovingly curated windows are what frame Cromarty's inspiring scenery. The composition of panels allows the viewer to walk through Cromarty, absorbing what I have during my time here. I invited my respondants to visit me in my own studio space and greatly valued their input in my project. The final works are a pastiche of inspirations and observations. Though they are executed by me, I view them as a collaboration and they would not have been possible without the participation of Cromarty's creative community.
I would like to thank the Cromarty Arts Trust for their warmth, kindess and support throughout my time here - the experience has been invaluable."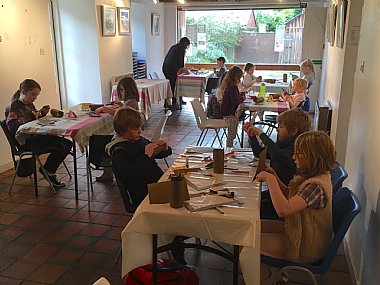 During her time in Cromarty, Hannah also ran a Halloween-themed children's craft workshop that was a huge hit!