Lynn Baxter
Lynn won the Student Residency Prize in 2009.
"It's a privilege to be Cromarty's artist in residence. To be given time to experience its unique character and find ways to celebrate some of the things that make it so special is a real opportunity and a building block for an artist.
In June this year, I graduated with first class honours from Duncan of Jordanstone College of Art, Dundee University, where I was awarded the Pat Holmes Prize and the Alasdair Smart Sculpture Prize.
During my fourth year I was commissioned by Volvo to produce a public artwork. The resulting work, A Cabinet of Curiosities for Perth's Eight Trades, is a large bas relief in wood with metal finishes celebrating artisan skills. For me, labour is sweite.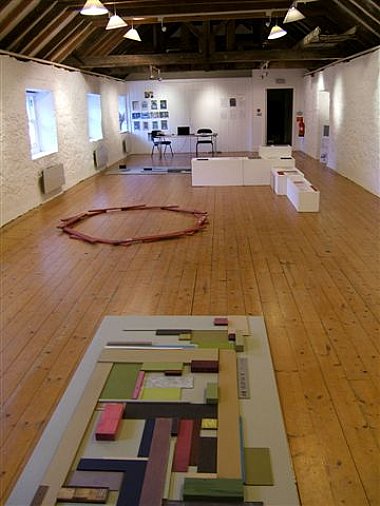 The commission was followed by a residency at Yorkshire Sculpture Park to design and make a usable sculpture for the grounds – a fast and furious time - part-organised by York St John's University.
My feet haven' t touched the ground these past few weeks, which is a suitable feeling for someone whose degree show was concerned with ideas about the human aspiration to fly. Drawing in Air: Towers to Fly From, Clouds to Look Down On was an examination of the inter-relationships between artworks and architectural space. I perceived the works as drawings in air. The materials used were wood, metal, acrylic, the drawn line of the hawser, collage, film. I made sculptures which lodged and leaned, betraying fragility even though they were hard-edged. They required the built environment to maintain stability. You will see from the images that my interest is in abstract forms and ranges from two to three dimensions.
One of my sketch books about my "towers" and "clouds" is touring Scotland as part of the Travelling Gallery over the next few months.
I exhibited for the first time with the Scottish Society of Artists whilst my degree show was taking place. It amused me to have works on show in the same building for two different purposes.
My third year at art college was enriched immeasurably by the opportunity to create works centring upon the life and demise of a burnt fishing boat found on the banks of the Tay - The Lista LK 760. My researches followed her life's journey and became both a celebration and a requiem. I saw embedded in her story the story of Everyman.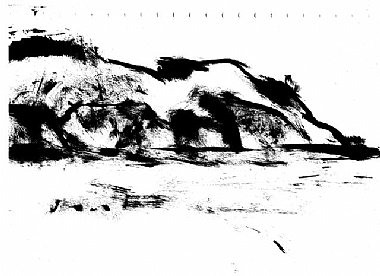 The lines and knots of her timbers were transposed into an alphabet into which I translated lines of a poem cycle I wrote about her. I made a light box vessel in which The Lista alphabet carried the first line from the cycle: From bough to bright bow.
I also made wooden sculptures based upon her experience. These will be touring to galleries across the highlands over the next few months by courtesy of Highland Council.
Whilst I have been exhibiting my work since 1994, no other project has been so inspiring and enriching as The Lista one. It seems to encapsulate things that I hold close to my heart: the sea, boats, language, the land, human history, human striving.
Cromarty offers a perfect opportunity to think on these things further. I know that my interests in archaeology, pre-history, found materials, land and sea, boats and the built environment – and the histories of the people who inhabit it – will make it a fascinating residency for me. I expect the experience to resonate in my work for years to come. Just what will I be making? Various possibilities suggest themselves involving found materials, collage, low relief. My practice is quite wide and I expect to surprise myself. I hope that whatever it is will also surprise and interest others."